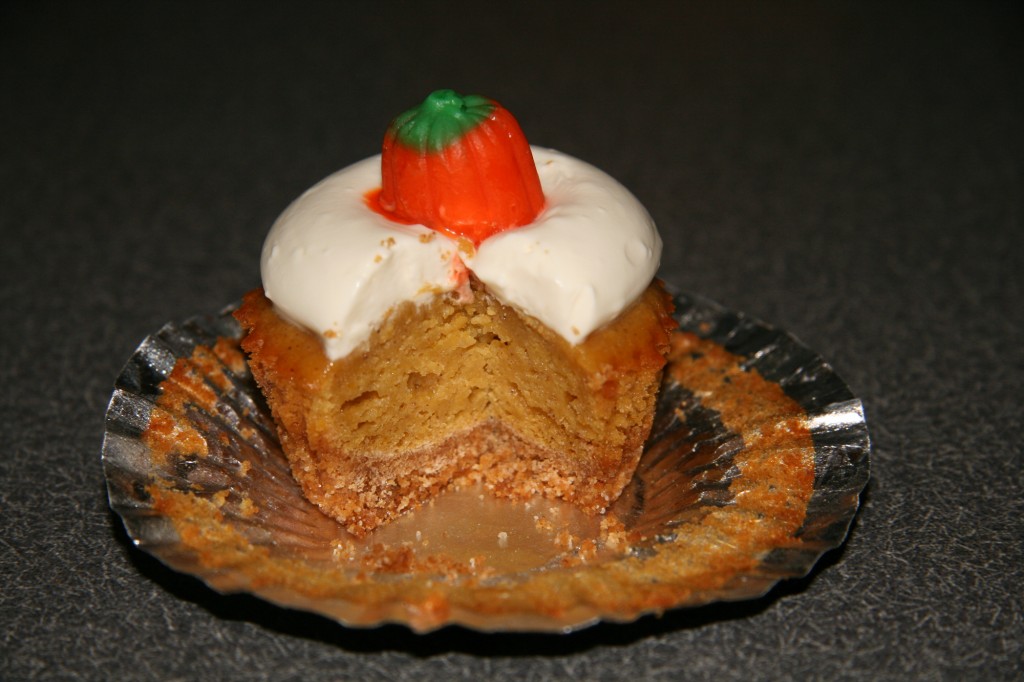 After years of collecting pumpkin recipes, I wanted to try something different this year…I wanted to come up with my own recipe. I definitely want to push my limits and improve as a cake decorator. But I also want to improve as a baker and become more experimental. So I decided to take the plunge and come up with a pumpkin cupcake that hasn't been done before (at least to my knowledge). There are some recipes floating around for pumpkin pie cupcakes, but this one uses elements from my favorite vanilla cupcakes and my favorite pumpkin pie filling. I also added a graham cracker crust and a whipped cream frosting so that every bite tastes like a piece of pumpkin pie. You can use canned pumpkin, but I prefer fresh. Check out my tutorial on how to work with fresh pumpkin.
Pumpkin Pie Cupcakes
Makes 24 cupcakes
Ingredients
For the Crust
1 1/2 cups graham cracker crumbs
6 TBSP butter, melted
1/3 cup sugar
For the Cupcakes
1 1/2 cups flour
1/4 tsp baking powder
1/4 tsp baking soda
1/4 tsp salt
1/2 tsp cinnamon
1/2 tsp ginger
1/2 tsp nutmeg
2 eggs
1 egg yolk
1/4 cup white sugar
3/4 cup brown sugar
2 cups pumpkin puree
1 can sweetened condensed milk
2 tsp vanilla extract
For the Frosting
1 8-oz package of cream cheese
3/4 cup white sugar
2 tsp vanilla extract
2 cups heavy cream
Instructions
To Make the Crust
Preheat the oven to 350 degrees. Line cupcake pans with 24 cupcake liners. This recipe is a little gooey and I recommend the Reynolds cupcake wrappers because the inside is like nonstick foil.
Break up the graham crackers and pulse in a food processor until you have 1 1/2 cups of fine crumbs. Mix the crumbs with the butter and sugar until it is well blended. Add the mixture to the bottom of each cupcake liner and press down with the back of a spoon. Bake for 5 minutes.
To Make the Cupcakes
Sift together the flour, baking powder, baking soda, salt, cinnamon, ginger, and nutmeg into a medium bowl. In a Kitchenaid mixer, beat together the eggs, white sugar, and brown sugar until they are blended. Add the pumpkin puree and sweetened condensed milk. Then add the vanilla.
Gradually add the dry ingredients until the batter is completely uniform. Add the batter to the cupcake liners and bake for 18-22 minutes, until a toothpick inserted in the center of the cupcake comes out clean. Let the cupcakes cool completely before frosting.
To Make the Frosting
Place the mixing bowl and beaters in the refrigerator for at least 30 minutes. You want them nice and cold.
Beat together the cream cheese, sugar, and vanilla on medium speed until they are smooth. While it is still beating, slowly add the heavy cream in a continuous stream. Once the cream is added, scrape the sides of the bowl and continue mixing until the frosting holds stiff peaks. This can take a few minutes.
To get a perfect dollop of cream on each cupcake, pipe the frosting with a fairly large round tip. Begin in the center and just let the frosting fill the top of the cupcake.