It's a day late, but I wanted to wish everyone a Happy New Year! I hope 2012 brings everyone health, happiness, and lots of yummy cake (unless of course your New Year's resolution is to eat less cake).
Here is a cake I made for New Year's day. It's an eggnog cake with rum butercream frosting. I thought it was the perfect way to ring in the new year. I saw the recipe on The Pink Apron Baker and knew I had to try it.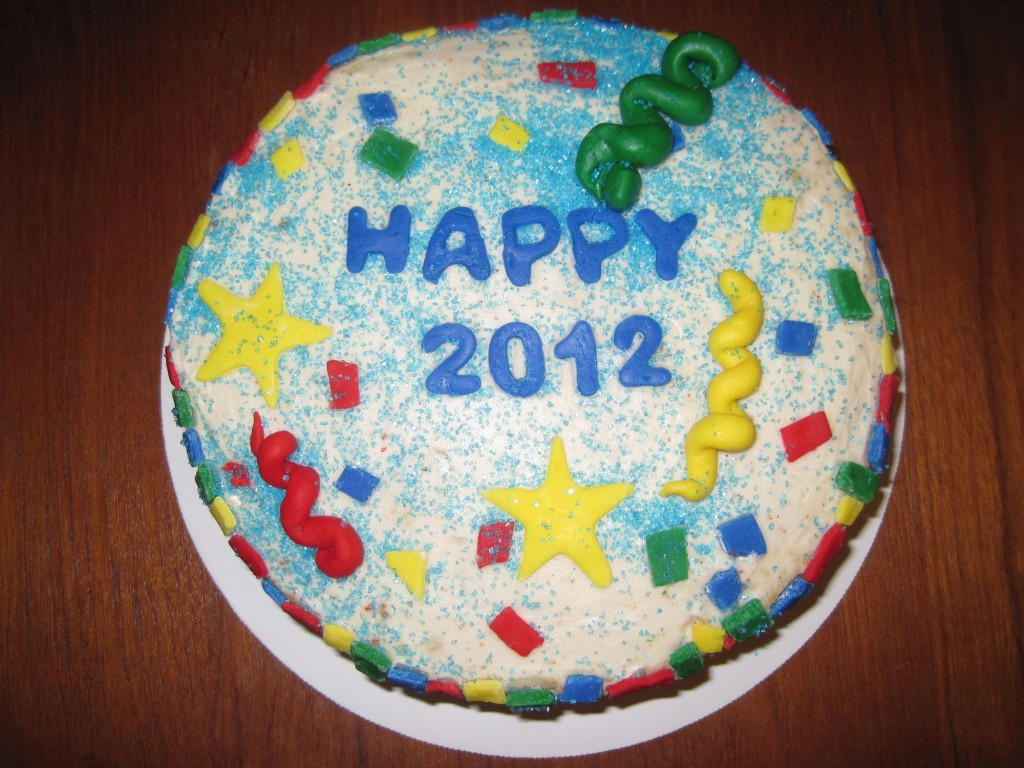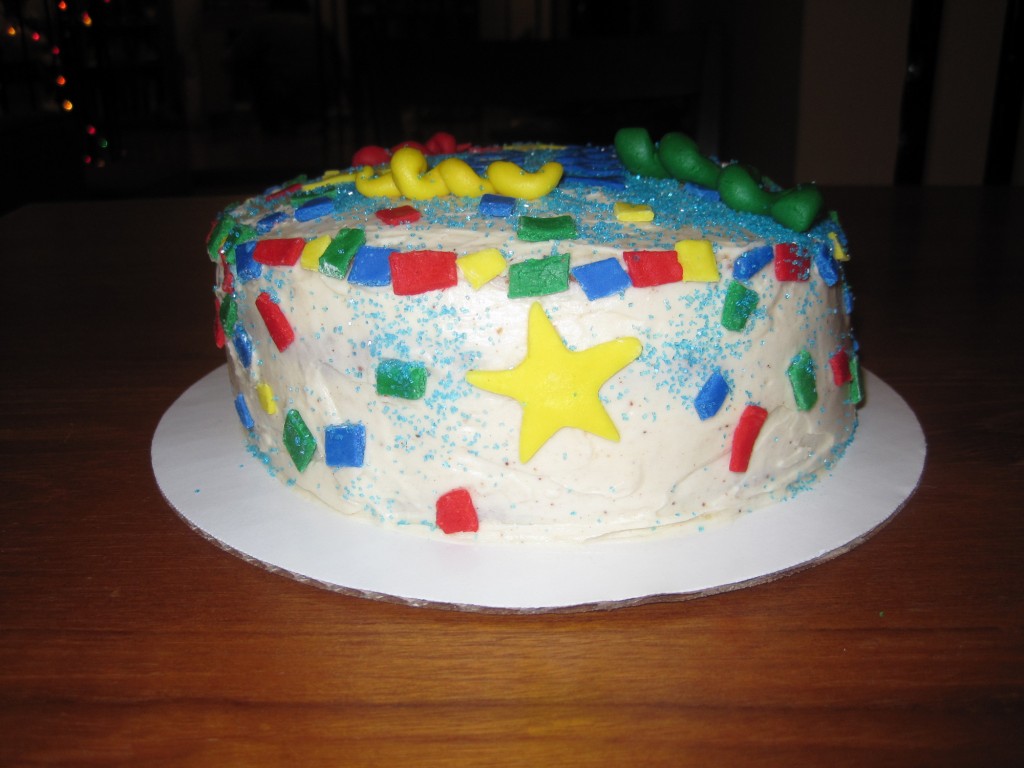 The cake is 4 layers with rum frosting in between. I made confetti and streamers out of marshmallow fondant, and sprinkled the cake with blue sugar for an overall sparkly effect. For the confetti, I rolled out the fondant, cut strips, and cut the small squares of confetti with a pair of kitchen scissors. For the streamers, I rolled the fondant in my hands into a snake shape and wrapped it around the end of a spoon. I let it dry a bit and then slid it off the spoon and placed it on the cake.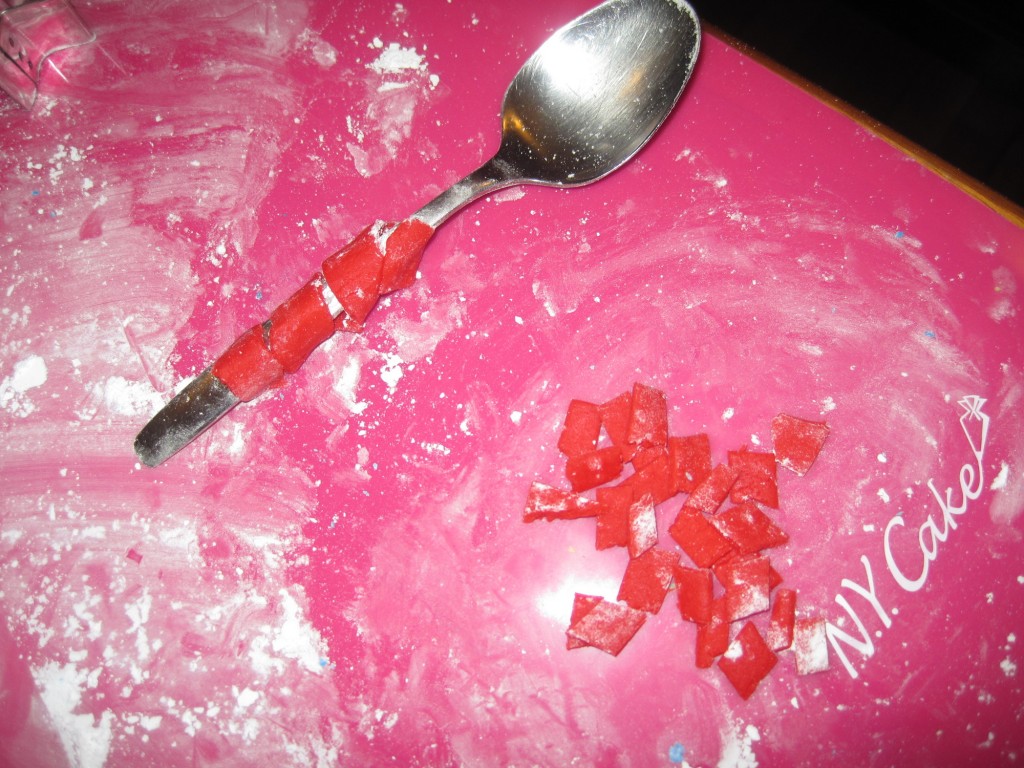 After everything was assembled, I used a bottle of compressed air to get rid of the excess sugar that had fallen onto the cake board. I found this worked really well.
Eggnog Cake with Rum Buttercream Frosting (from Pink Apron Baker)
Makes 2 8-inch cakes, and about 4 cups of frosting (enough to frost between the layers and the outside of the cake)
Ingredients
For the cake
4 eggs, at room temperature
1/2 cup eggnog, at room temperature
2 tsp vanilla extract
1 3/4 cups cake flour
1 1/2 cups sugar
2 tsp baking powder
3/4 tsp salt
1/2 tsp nutmeg
1 cup unsalted butter, at room temperature, cut into 16 pieces
For the Frosting
2 cups butter, softened
4 cups confectioners sugar
4 TBSP dark rum
2 TBSP eggnog
1 tsp nutmeg
Instructions
To Make the Cake
Preheat the oven to 350 degrees. Prepare both pans with Wilton Cake Release. In a medium bowl, whisk together the eggs, eggnog, and vanilla; set aside.
In the bowl of a standing mixer, combine the flour, sugar, baking powder, salt, and nutmeg. With the mixer on medium low, add the butter one piece at a time until the mixture looks sandy, and just start to come together. Add half of the eggnog mixture and mix on low until it just comes together. Increase the speed to medium high speed and beat until light and fluffy, about 1 minute. Reduce mixer speed to medium, and add the remaining egg mixture in a slow, steady stream. Continue mixing until thoroughly combined, scraping the bowl, as needed.
Divide the batter into the two pans, and smooth the top with a spatula. Bake for 20-25 minutes, or until a toothpick inserted in the center comes out clean.
To Make the Frosting
Place butter in a bowl of electric mixer and beat on high until smooth about one minute. Add in sugar and nutmeg and mix at a medium speed until incorporated about 2-3 minutes. Add rum and eggnog and beat on high until frosting is fluffy about 4-5 minutes.
Notes
I found that the cake needed more like 30-35 minutes, but you can start with 25 so that you don't overcook the cake.