I get a lot of my qualities and preferences from my dad: my need to check restaurant silverware meticulously, my habit of talking to strangers, and my love of peanut butter and banana sandwiches. Seriously, if you have never tried one, you have no idea of what you are missing. It's one of my favorite food combinations. So when I saw a recipe for roasted banana cupcakes in a cupcake book, I knew I had to pair it with peanut butter frosting (the original recipe called for honey-cinnamon frosting, which would have been good too, I guess).
This baking project was a nod to a lot of people in my life. I made it for my friend's birthday, using a recipe that reminded me of my dad, and using the giant cupcake cake pan that my brother and sister-in-law bought me for my birthday. In case you haven't seen this giant cupcake pan, it is adorable. It's made by Wilton, and it is very easy to use. The only thing is that you have to be careful to fill the pan so that the two halves of the cupcake line up. You should put more batter in the bottom half of the cupcake, since it is larger in volume than the top. I think the ratio is roughly 2/3 of the batter on the bottom and 1/3 on top. After filling the pan, the levels of both halves should be approximately the same.  If your cooked cupcake halves do not fit together,  make sure to cut away some cake BEFORE assembling it. Otherwise you will have a frosted mess.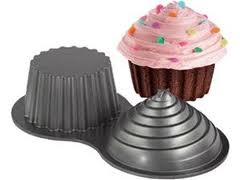 Here's how mine turned out: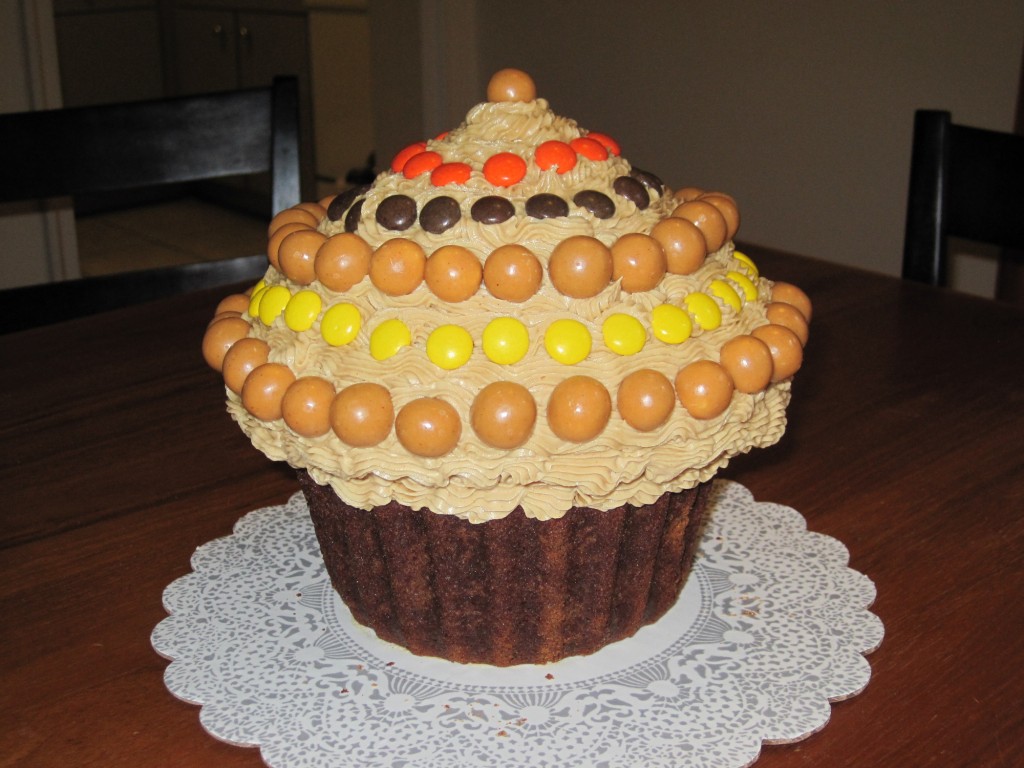 Once the cake was cool, I removed it from the pan and frosted the top surface of the cupcake bottom before putting the top on (this makes it like a layer cake with frosting in the middle). Then I piped the frosting using a #32 star tip and then topped with peanut butter malt balls and Reese's Pieces candies in concentric circles all the way to the top. It was a relatively easy cake to make, and very cute.
Roasted banana cupcakes (from Martha Stewart Cupcakes)
Makes 16 cupcakes, or one giant cupcake
Ingredients
3 ripe bananas
2 cups cake flour, sifted
1/2 tsp baking soda
1/2 tsp baking powder
3/4 tsp salt
1/2 cup unsalted butter, room temperature
3/4 cup sugar
3 large eggs, separated
1/2 cup sour cream
1 tsp pure vanilla extract
Instructions
Prepare the cupcake pan by greasing with either Pam, Crisco, or Wilton cake release.
Preheat oven to 400 degrees. Place 3 whole unpeeled bananas on a baking sheet and roast for 15 minutes. The peels will darken. While you wait, sift together the cake flour, baking soda, baking powder, and salt. Remove bananas from the oven and let cool before peeling.
For the remainder of the recipe, reduce the oven temperature to 350 degrees.
With an electric mixer, on medium to high speed, cream the butter and sugar until pale and fluffy. Add the egg yolks, one at a time, beating until each egg yolk is incorporated. Add the roasted bananas, and beat to combine. Add the flour mixture in 3 batches, alternating with two additions of sour cream. After each addition, beat until combined. Add the vanilla.
In a separate bowl, whisk the egg whites to soft beaks with an electric mixer. Fold 1/3 of the whites into the batter to lighten. Gently fold in the remaining egg whites in two batches.
Pour the batter into the giant cupcake pan, putting slightly more batter in the top half than in the bottom half. Cook in the oven for about 20 minutes, until a cake tester inserted in the middle comes out clean. Since this is a giant cupcake, it may need more time, but I would start with 20 minutes and then just keep checking until the tester comes out clean. As soon as it comes out clean, the cake is done.
Fluffy Peanut Butter Frosting (from Allrecipes.com)
Makes about 1.5 cups of frosting
Ingredients
1/2 cup butter, softened
1 cup creamy peanut butter
3 TBSP milk
2 cups confectioners sugar
Instructions
Place the butter and peanut butter into a medium bowl, and beat with an electric mixer. Gradually mix in the sugar, and when it starts to get thick, incorporate milk one tablespoon at a time until all of the sugar is mixed in and the frosting is thick and spreadable. Beat for at least 3 minutes for it to get good and fluffy.