I'm slowly catching up with all of my old content, and I am almost up to date. This cake was from Halloween, when we visited friends in Maryland and attended an awesome costume party. This was my first fondant project.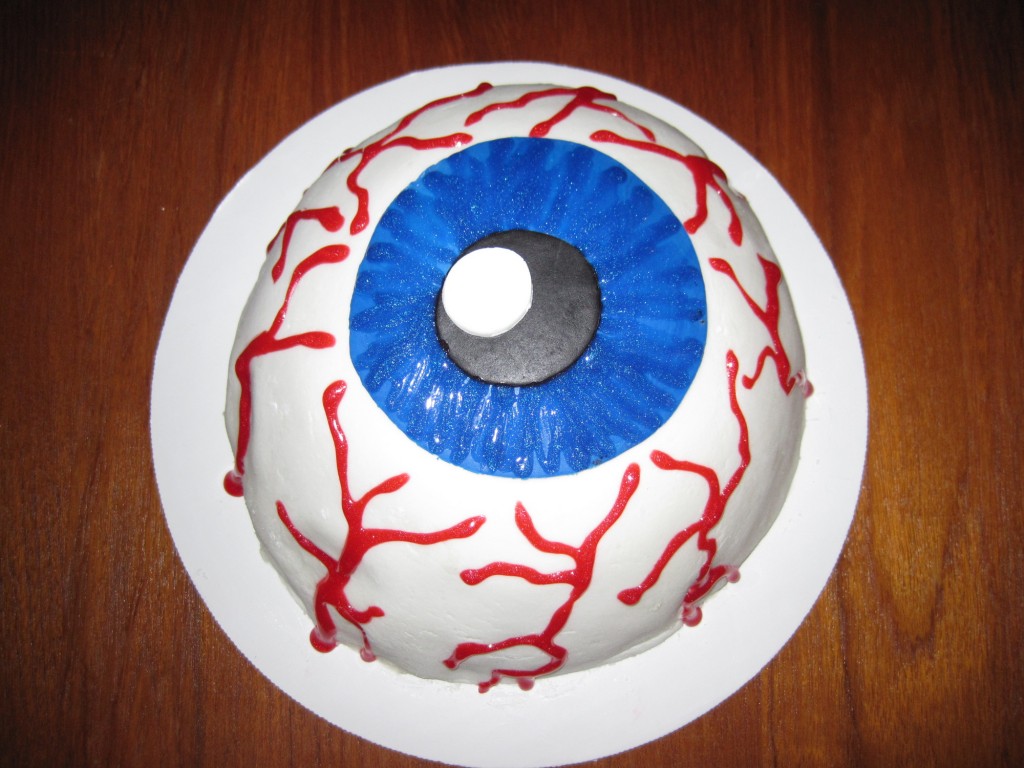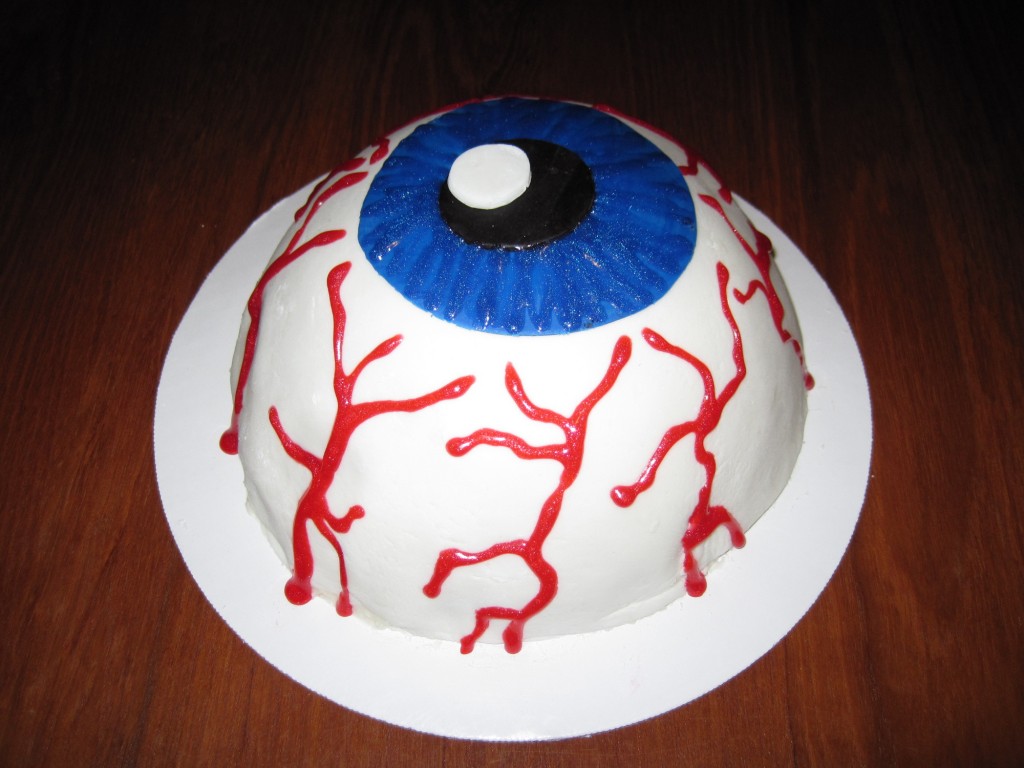 Of course, i used my handy Betty Crocker Bake 'n Fill pan to make the spherical shape. I used the Perfect Pound Cake recipe. This cake is nice and rich, and held the shape nicely. Since we had to travel to Maryland, I couldn't make a filled layer cake like I wanted. The original plan was to fill the cake with custard that had been colored red. That way, when the first person cut into the cake, it would be a bloody, gooey center. Instead, I had to make a frosted layer cake that would be able to travel 4 hours without refrigeration. If you are making this cake locally, definitely fill the center and watch the reactions!
Any cake decorated with fondant should first be covered with a layer of buttercream. Not only does this help the fondant stick to the cake, but it makes it taste a little better as well. I made white marshmallow fondant, and colored a small portion blue, and an even smaller portion black. I rolled out the white to the desired thickness (about 1/4 of an inch) and draped it over the cake. I cut the excess away and then rolled out the blue and black. I used cookie cutters to cut out the blue iris and black pupil. I cut a tiny circle out of the excess white fondant for the reflection.  To attach the iris, pupil, and reflection, I used a small pastry paintbrush and painted water on the back of the fondant. Then I gently pressed onto the cake. Don't use too much water or it will get soggy. First I attached the iris, then the pupil, and at last the reflection. The rest of the cake details were done with Wilton glitter gel. I radiated blue glitter gel outward from the pupil onto the iris, and then used the pastry paintbrush to smooth the gel so that there was a subtle radiating pattern on the iris. I made the blood vessels with red glitter gel and just made up the pattern as I went along. Since this was my first time working with fondant, I did have some cracks. Luckily, I was able to fill those in with red gel and make it look like part of the vasculature of the eye.