My apologies to my Boston family and friends, but I cannot defend the Patriots this time. I'm all for creative plays (not that I understand them fully), but stealing the balls and deflating them is just too much. Luckily, I can have a sense of humor about it. So I decided to make "deflategate" cupcakes, and what better flavor than something made with Sam Adams beer?
The recipe called for Sam Adams Boston Lager, but I decided to go with the Boston Ale, because it was smoother and had hints of caramel. I thought it would be a better cupcake beer. It turned out great! The cupcakes were not overly sweet, and had a bread/yeast flavor. I would say these are a cross between a cupcake and a cornbread muffin. I decided to pair them with my new favorite cream cheese frosting.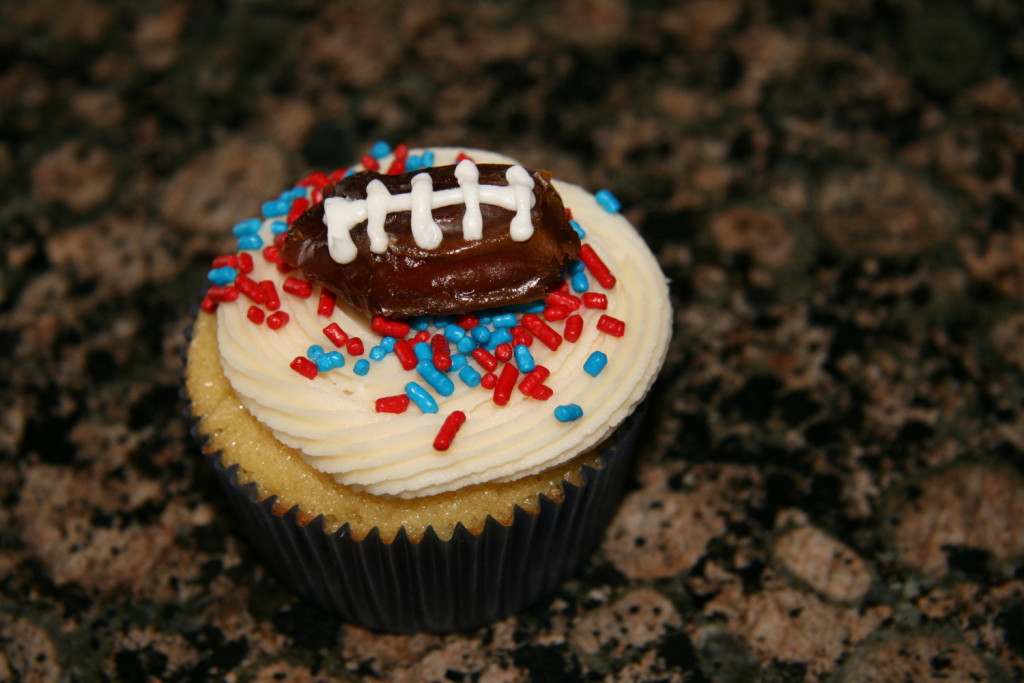 Decorating was the most fun! To make the deflated footballs, I knew I needed some kind of dried fruit. At first I wanted prunes, but I know they are not a fan favorite. I found that dried dates look even better, and I think they taste better than prunes. We'll see what people think when I serve them. I just did 5 stitches with royal icing, and it was all pretty easy.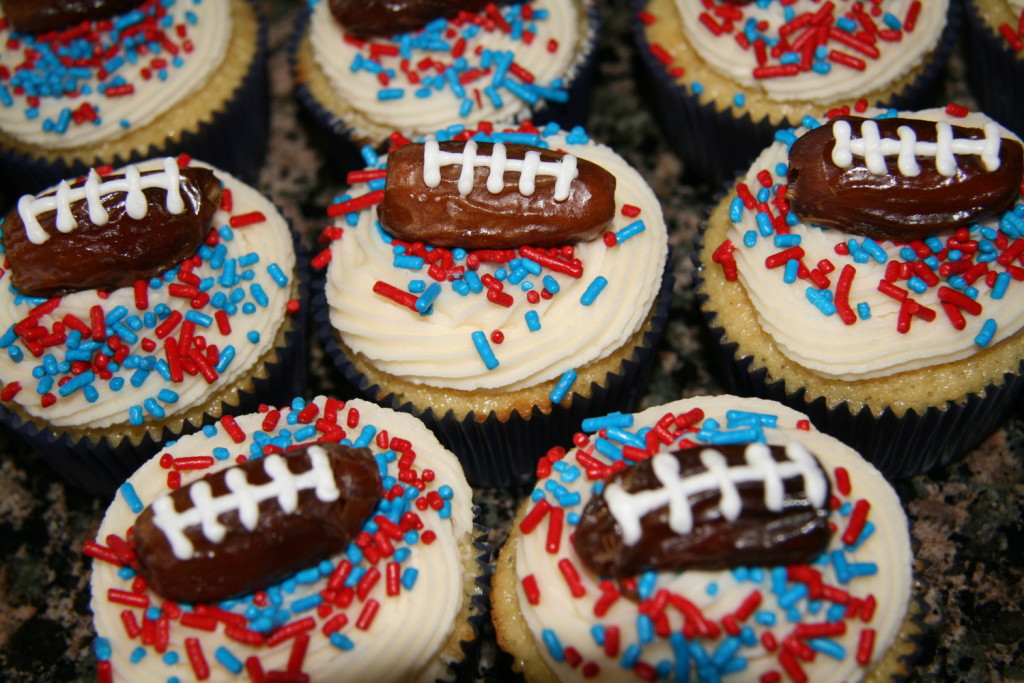 I had to go with Pats colors, and the supermarket didn't have red and blue sprinkles that I could purchase alone. So I had to get a few bottles of patriotic red, white, and blue sprinkles.
What happened to all the white sprinkles, you may ask. Well, a huge thank you to my hubby who sat with me and helped pick out all the white sprinkles! What a pain in the ass, but the finished product really does look good! Next time, I will leave myself 2 days so I can order single colors of sprinkles on Amazon!
Now they are in formation and ready to go for the Superbowl!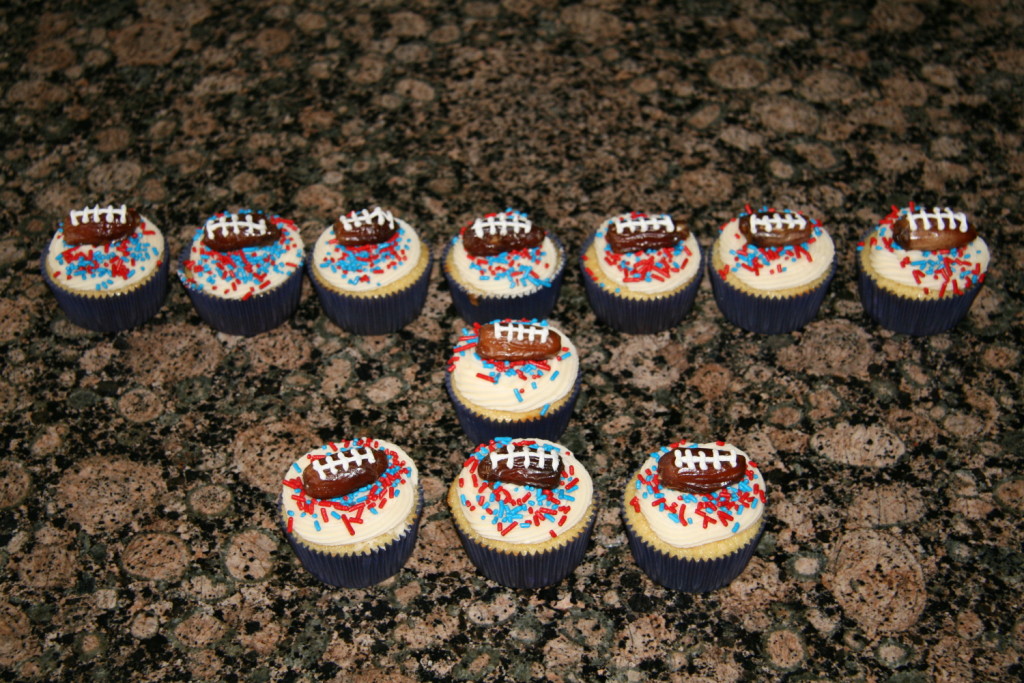 Who am I rooting for in the game? I'm not sure…I guess whoever makes it so that I win a little money in the pool I've entered!
Enjoy the game, everyone!
Cupcakes made with Sam Adams Boston Ale (from the Sam Adams Blog)
Makes 24 cupcakes. Originally made with Boston Lager, but I made the decision to use the Boston Ale. I do not regret my decision
Ingredients
2 sticks unsalted butter
1.5 cups of white sugar
3 large eggs (at room temperature)
4 large egg yolks
2.5 cups of all-purpose flour (sifted)
1 TBSP baking powder
¾ tsp salt
1 cup milk
1/3 cup Samuel Adams Boston Ale
Instructions
Preheat oven to 350 degrees F.
Line 2 cupcake tins with cupcake liners.
In an electric mixer, beat together the sugar and butter until fluffy.
Add the eggs and egg yolks and beat until smooth and fluffy.
In a large bowl, sift the flour and add the baking powder and salt.
In a small bowl, mix the milk and Boston Ale.
Add 1/3 of the dry ingredients to the butter mixture, and mix well. Then add 1/2 of the milk/beer to the butter mixture and beat. Continue alternating adding the dry ingredients and milk/beer until it is entirely incorporated.
Scoop batter into the cupcake liners, and fill 2/3 of the way.
Bake 16-18 minutes (top rack of oven, bottom may take longer), or until a toothpick inserted in the center comes clean.