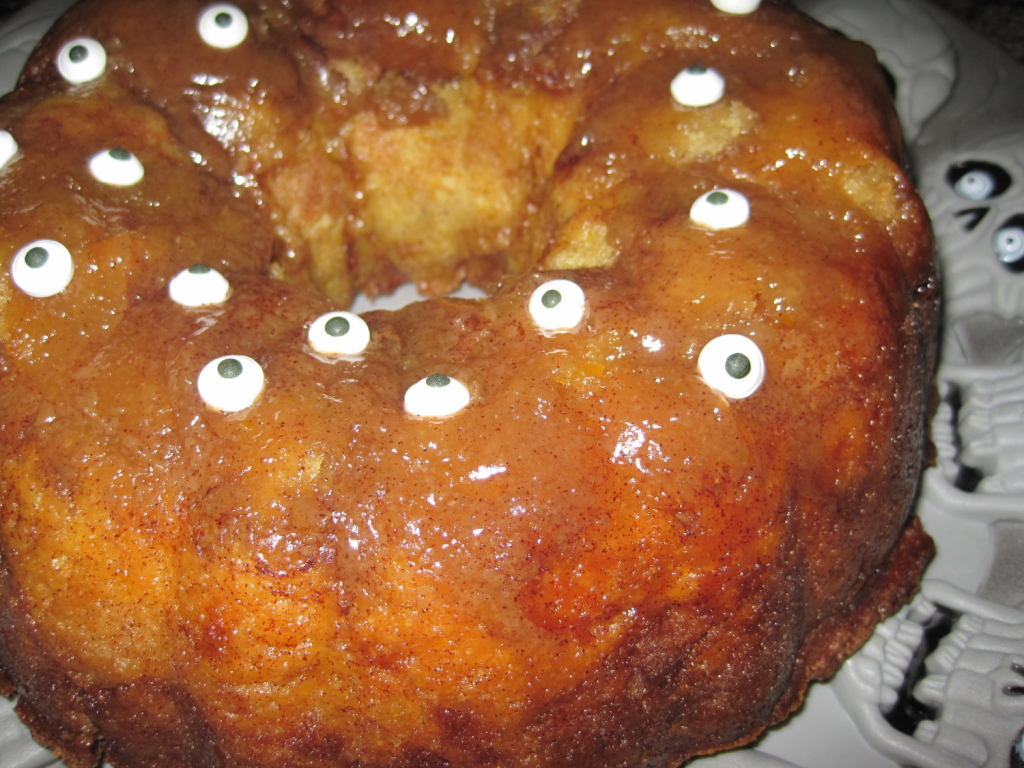 So I've been in a bit of a baking rut lately…luckily, Halloween and the fall in general lends itself to awesome pumpkin recipes. Last year, I fell in LOVE with Southern Tier's Pumking Ale. So when my husband showed me this recipe for monkey bread, I knew that if I only baked one thing this fall, it would be this. It's from a blog called Pennies, Pints, Pittsburgh, and it is all recipes with beer. Pretty amazing if you ask me.
I call this "monkey cake" because instead of little balls that you pull apart, mine came out more like a cake. So we sliced it when serving, and instead of dipping in the sauce, we drizzled it on top of each slice. And yes, there are candy eyes on the cake. I had them leftover from when I helped a friend make this dinosaur cake and thought it would be perfect for Halloween.
Before diving into the recipe, let me first say that for the past two recipes I posted, I've used a different yeast, and I think it's pretty fantastic. The dough had a nice, high rise and I've never gotten this before with the other yeast I was using. Here it is: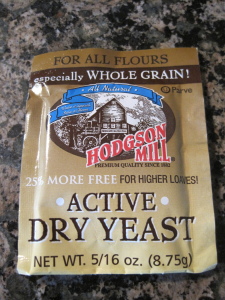 For those of you who bake a lot of bread, you can get it in a 48 pack on Amazon.
And now, here is the recipe that will totally change your life. Okay, maybe not…but it really is so damn good!
Pumking Ale Monkey Cake (from Pennies, Pints, Pittsburgh)
Ingredients
For the Dough:
3/4 cup Southern Tier Pumking Ale
3/4 cup whole milk
1/2 cup vegetable oil
1/2 cup white sugar
1 package active dry yeast
1 cup pumpkin puree
4 1/2 cups all-purpose flour, divided
1/2 tsp ground cinnamon
1/2 tsp baking soda
1/2 tsp baking powder
1/2 tsp salt
For the Caramel Sauce:
1 cup light brown sugar
1/4 cup Pumking Ale
3/4 cup heavy cream at room temperature
3 1/2 TBSP butter at room temperature
For the coating:
1/2 cup butter, melted
1 1/4 cups white sugar
1 TBSP ground cinnamon
Instructions
To make the dough:
In a large saucepan, combine the Pumking ale, whole milk, vegetable oil, and white sugar. Heat until it is hot, but stop right before it begins to boil.
Remove the pan from heat and let cool 15-20 minutes.
Sprinkle the yeast on the surface of the mixture and let sit for 5 minutes.
Transfer this mixture to a large bowl, and stir in the pumpkin puree until it is completely combined.
Gently stir in 4 cups of the flour and the ground cinnamon.
Let the dough rest covered with a towel for one hour. It should be very puffy and double the size when you left it.
Stir in the remaining flour (1/2 cup), baking powder, baking soda, and salt.
For the caramel sauce
Next, combine the sugar and Pumking Ale in a medium saucepan, and cook over low heat until the sugar dissolves.
Increase the heat to medium and bring to a boil, without stirring. Boil until the sauce is a deep amber color, about 5 minutes. Watch it, because it can burn easily.
Remove the saucepan from heat and whisk in the heavy cream. Then stir in the butter. Transfer the caramel to a bowl and let cool.
To assemble:
Melt the butter in a bowl.
Combine the sugar and cinnamon in another bowl.
Pull off small pieces of dough and roll them into slightly larger than golf sized balls. You should have about 40-45 balls. Dip each ball in the melted butter and then roll in the cinnamon sugar mixture. Place in the bottom of a greased bundt pan.
Pile up all the balls until the bundt pan is filled.
Pour 1/2 cup of the beer caramel over the coated dough balls.
Bake at 375 degrees on a cookie sheet for 35-40 minutes, or until a knife inserted in the center comes out clean.
Let cool 5-10 minutes, and then invert onto a large serving plate.
Pull off pieces and dip into the remaining beer caramel, or slice and drizzle the caramel on top of each slice.