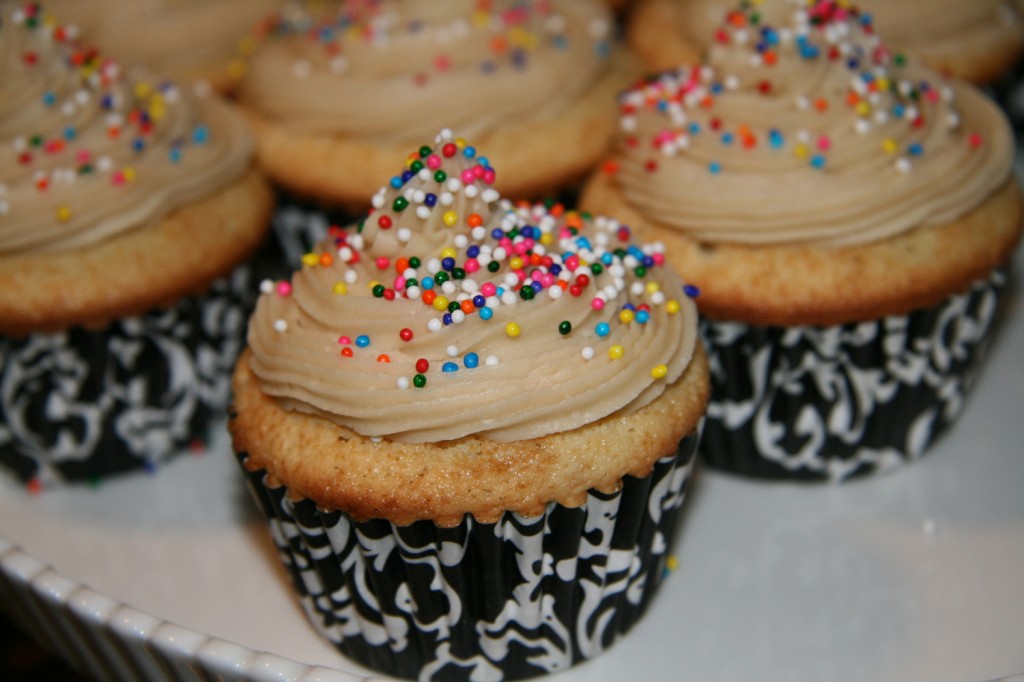 Hello there! Hope everyone is having a great summer. It's been a bit slow for me on the baking front, but I have a project coming up next month that I can't wait to do. To prepare, I needed to test out some new flavors, so I made these cupcakes for my friend's birthday gathering. I wanted something other than garden variety vanilla, so I went on Pinterest and found cookie dough frosting. I must be behind in the times, because apparently it's a thing, and I had no idea. The genius part is that you actually put flour in the dough to make it the right consistency. Paired with sugar cookie cupcakes made with half and half, the combination is to die for!
Sugar cookie cupcakes with cookie dough frosting
Cupcakes from Creme de la Crumb; frosting modified from Tidy Mom; makes 12 cupcakes
Ingredients
For the cupcakes
1/2 cup butter, softened
1 cup sugar
2 large eggs
3 tsp vanilla
1 1/2 cups flour
1 1/2 tsp baking powder
1/8 tsp salt
3/4 cup half and half
For the frosting:
1 1/2 sticks of unsalted butter at room temperature
1/3 cup of light brown sugar, packed
1 3/4 cups confectioner's sugar
1/2 cup all purpose flour
1/4 tsp salt
1 1/2 TBSP milk
1 1/4 tsp vanilla
Instructions
To make the cupcakes:
Preheat oven to 350 degrees F and line muffin tins with cupcake liners.
In an electric mixer, cream together the butter and sugar until fluffy. Add the eggs and vanilla.
In a medium bowl, combine the flour, baking powder, and salt and whisk together.
Add the dry ingredients to the wet and mix.
Add the half and half until completely incorporated.
Spoon the batter into the muffin tins, until 2/3 fill. Bake 18-20 minutes until golden brown and a toothpick inserted in the middle comes out clean.
To make the frosting:
Beat the butter and brown sugar in an electric mixer until fluffy.
Mix in the confectioner's sugar until smooth.
Add the flour and salt and mix until incorporated.
Mix in the milk and vanilla until you have a nice spreadable consistency.