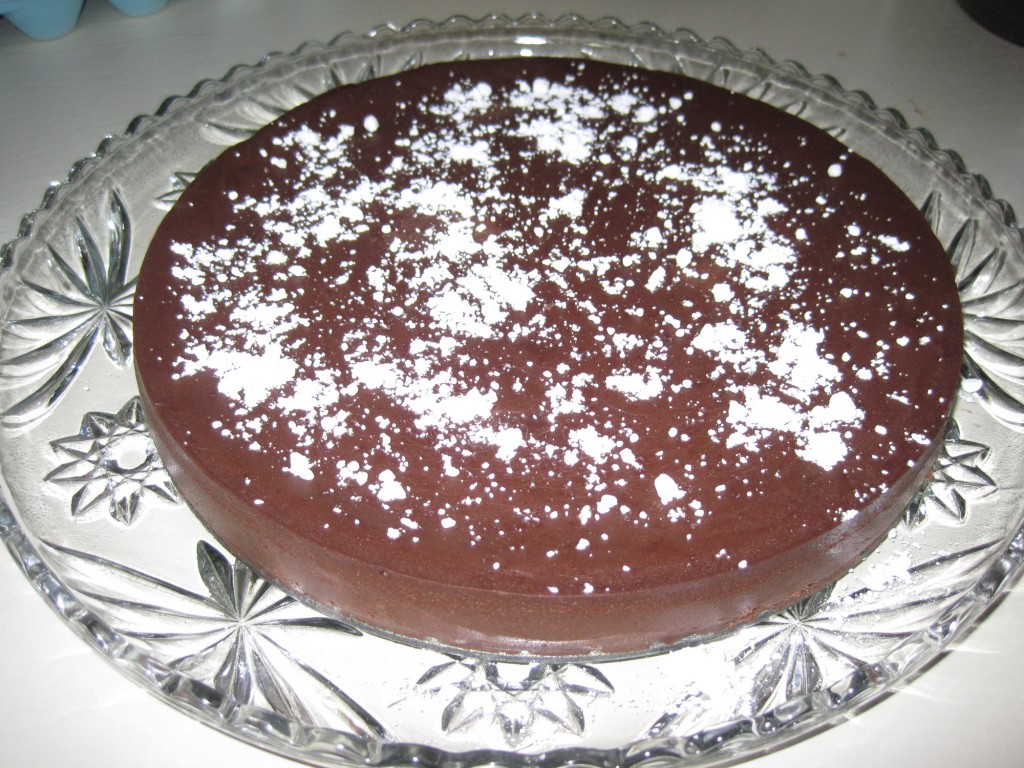 I saw a recipe for flourless chocolate cake on one of my favorite baking blogs, Brown Eyed Baker, and thought this would be perfect to make for Easter dinner. We have been trying to do more gluten free dishes since my husband's aunt was diagnosed with Celiac disease. Even though this is gluten free, it's a dessert that everyone will enjoy (unless you are weird like my husband and hate chocolate).
It's quite easy to make, and you can add additional flavors to make it your own. I added the zest and juice of one orange, but next time I think I will add more as the orange flavor was almost non-existent.  Also, the cake tastes just like a truffle, so slightly bitter. If you are like me and prefer sweeter chocolates, you can mix the type of chocolate, and use 1/2 milk and 1/2 bittersweet (or even 1/2 semi-sweet and 1/2 bittersweet depending on your preference). I'll post the recipe the way I made it.
Flourless chocolate cake (from Brown Eyed Baker)
Ingredients
10 eggs
2.5 sticks of butter
1/4 cup of brewed coffee
20 oz bittersweet chocolate, chopped
The juice and zest of one large orange
Instructions
Spray a 10-inch Springform pan with Pam cooking spray. Preheat the oven to 325 degrees.
Beat the eggs on medium speed in an electric mixer for about 5 minutes, until they have doubled in volume.
Place the chocolate, butter, coffee, orange juice, and zest in a heatproof bowl and set over a pot of simmering water. Stir until the ingredients are melted and completely smooth. The temperature should read 115 degrees on a candy thermometer.
Fold 1/3 of the eggs into the chocolate mixture with a rubber spatula until just combined. Then add the remaining eggs in two more additions until completely combined.
Place the Springform pan inside a roasting pan and pour boiling water in the pan until it reaches halfway up the sides of the Springform pan.
Bake for 22-25 minutes, until the edges are set and the middle is still slightly jiggly. The cake should read 140 on a candy thermometer.
Remove cake from bath and cover in plastic wrap and refrigerate until ready to serve (can last 4 days refrigerated).
Sprinkle the top with confectioners sugar before serving.
Notes
Some people prefer warm cake and some prefer it cold. Warm cake is more like the chocolate lava cake you see in restaurants. You can microwave individual slices for about 10 seconds if you prefer it warm.