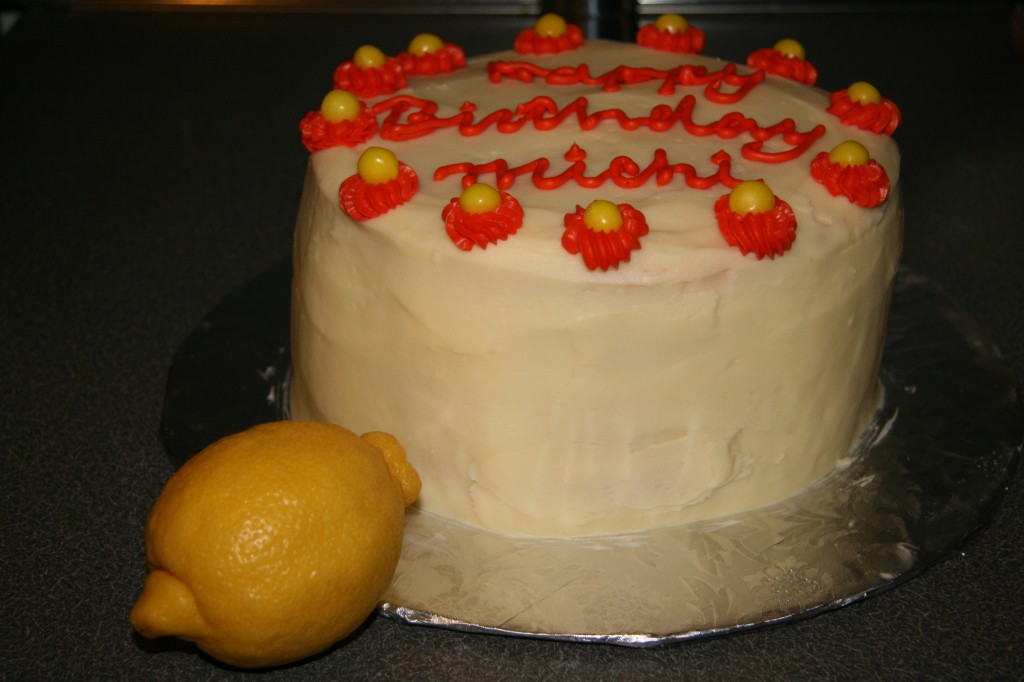 Most birthday cakes are sweet and decadent, just the way I like it. But sometimes I like to switch it up a bit…I wanted a refreshing cake for my sister-in-law's birthday since we were going to be at a Brazilian restaurant, which basically serves various meats sliced off a huge skewer. This Meyer Lemon and Olive Oil Chiffon Cake with Lemon Poppyseed Curd from
Love and Olive Oil was the perfect combination of soft, not too sweet cake and a burst of lemon flavor. Topped off with Lemonheads candy, the cake looked as good as it tasted.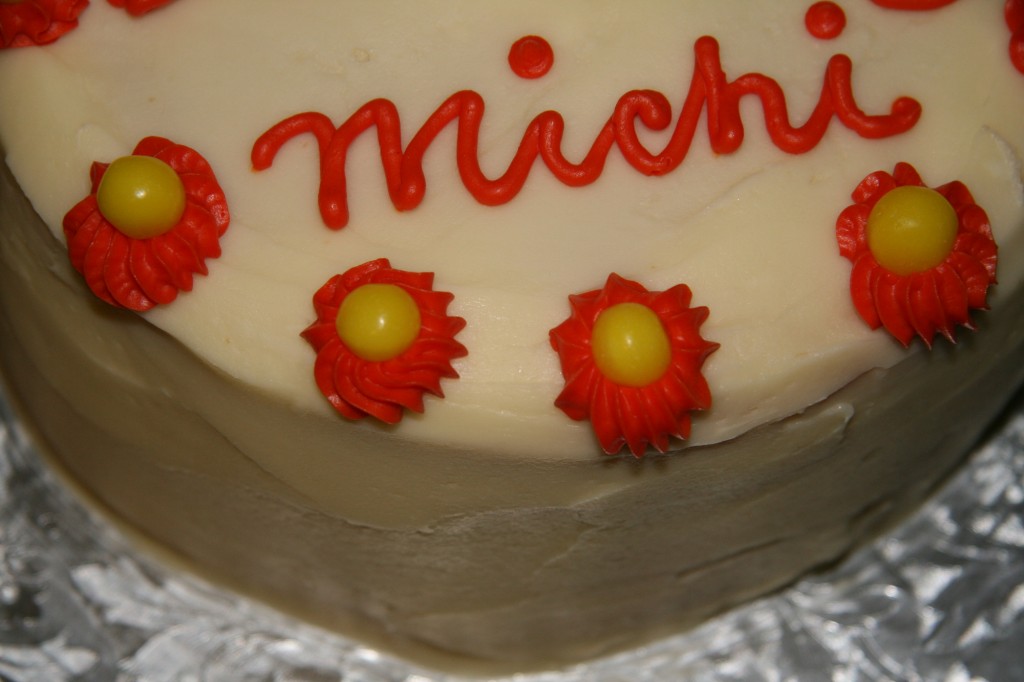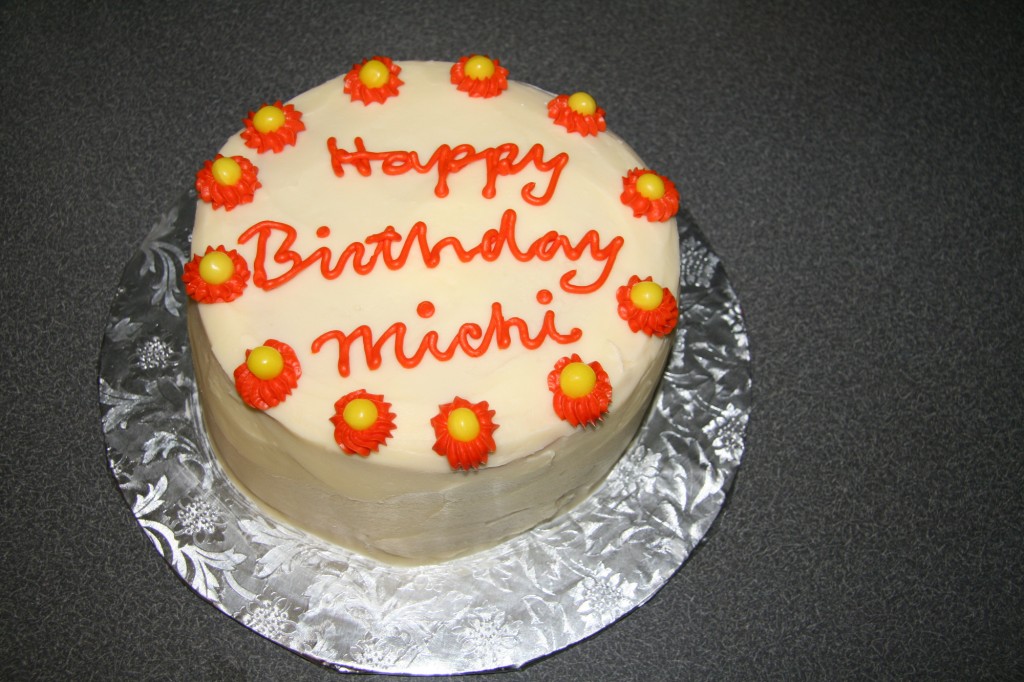 Just a few notes:
I couldn't find Meyer lemons, so I used whatever large lemons my supermarket carried. Meyer lemons are actually sweeter than other lemons, because they are a cross between lemons and oranges, as I learned from Wikipedia . So if you want your cake a bit sweeter, try to find Meyer lemons.
I found that a large lemon yielded about 1 tablespoon of zest and about 3-4 tablespoons of juice.
Meyer Lemon and Olive Oil Chiffon Cake (from Love and Olive Oil)
Ingredients
For the cake:
8 large eggs, separated
2/3 cup olive oil
2 TBSP Meyer lemon juice
1 TBSP Meyer lemon zest
2 TBSP water
1/2 tsp cream of tartar
1 1/2 cups sugar
2 cups cake flour
1/4 tsp baking soda
1/4 tsp salt
For the lemon curd:
1/2 tsp unflavored gelatin (I used lemon flavored)
1/3 cup plus 1 TBSP Meyer lemon juice
3 eggs
2 egg yolks
1/2 cup sugar
1 tsp Meyer lemon zest
4 TBSP butter, cut into pieces
1 tsp poppyseeds
For the frosting:
4 sticks unsalted butter at room temperature
3 3/4 cup confectioner sugar
1/4 cup heavy cream
Instructions
To make the cake:
Preheat oven to 350 degrees. Prepare three 9-inch pans with Wilton Cake Release (I used two 8-inch pans).
In a medium bowl, whisk together the egg yolks, olive oil, lemon juice, lemon zest, and water.
In an electric mixer, mix together the egg whites with the cream of tartar on medium speed until it is frothy. Slowly add 1/4 cup of the sugar (leaving 1 1/4 cups aside) and mix until soft peaks form. This may take up to 10 minutes.
In a large bowl, sift together the cake flour, remaining sugar, baking soda, and salt.
Make a well in the center of these dry ingredients and add the egg yolk and olive oil mixture. Mix until it is smooth. It should be the consistency of a paste.
Fold in 1/4 of the egg whites to lighten the batter. Then fold in the remaining egg whites until they are well incorporated. The batter should be nice and fluffy.
Divide the batter evenly among the pans and bake for 15 minutes, or until a knife inserted in the center comes out clean. If using only 2 pans, it may take longer–about 25 minutes.
To make the curd:
Place 1 TBSP lemon juice in a bowl and sprinkle with the gelatin. Let sit 5 minutes until the gelatin dissolves.
Whisk together the whole eggs, egg yolks, sugar, 1/3 cup lemon juice and lemon zest in a metal saucepan. Cook over low to medium heat, whisking continuously until the curd thickens enough to coat the back of a spoon. Do not let it reach a boil. This should take 5-7 minutes. Then whisk in the gelatin mixture and cook for 1 more minute.
Remove from heat and strain through a fine mesh sieve into a bowl. Cover the bowl with plastic wrap and let it cool in the refrigerator for at least 3 hours.
To Make the frosting:
Beat the butter in an electric mixer until creamy. Slowly add the confectioners sugar until well incorporated. Add 1/4 cup of the lemon curd and mix until the frosting is smooth. Add the heavy cream and beat until the frosting is a fluffy consistency.
Add the poppyseeds to the remaining curd, which will be layered with the cakes.
To assemble
Torte each cake so you have either 4 or 6 layers, depending on whether you baked 2 or 3 cakes. Place one cake down on a cake board and spread 1/4 cup of curd on the top. Place the next cake on top and repeat. Since curd can be slippery, you can pipe a wall of frosting around the top edge of each cake (surrounding the curd) so that they layers stay in place. Once assembled, frost with the buttercream frosting and enjoy!