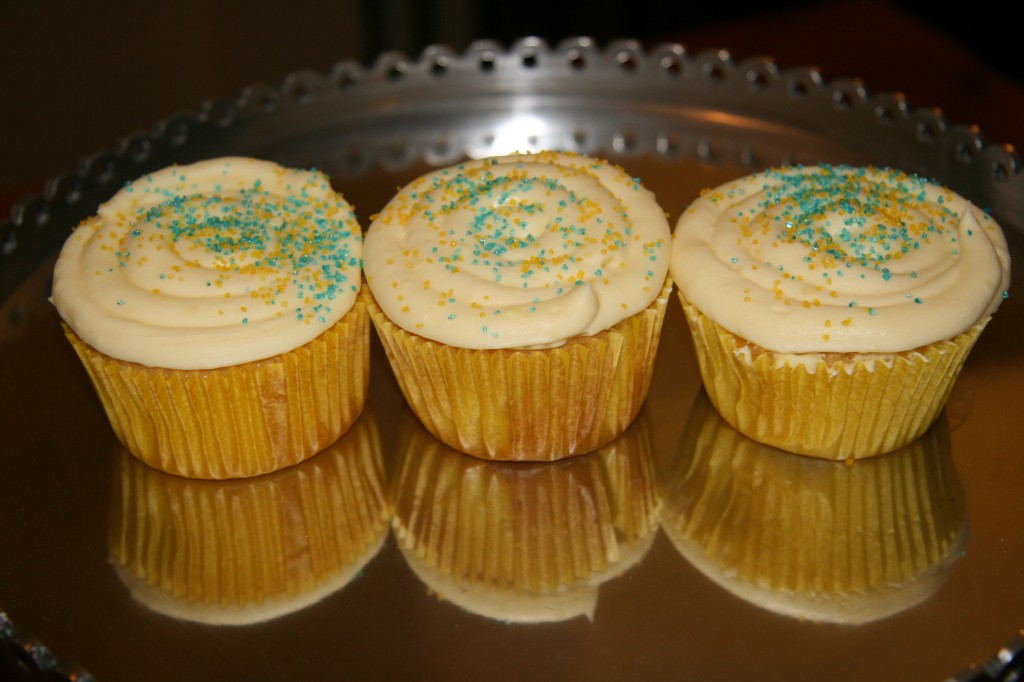 Base recipes are really important. They should stand alone, but also be the perfect base to add whatever flavors you want. I'm really loving the show Cupcake Wars, and now I'm inspired to experiment and come up with my own creations. But, I realized that while I have the perfect red velvet, chocolate, pound, and butter cake recipes, I don't have a vanilla cupcake recipe that I love. The pound cake is a little too heavy for a cupcake, and the butter cake is a little too light. So I figured I would try a new recipe out.
The main problem I had with my current vanilla cupcake recipe is that it's a bit dense in texture and I wanted a slightly fluffier recipe. When I think fluffy, I think of buttermilk. My favorite pancake recipe uses a homemade buttermilk, and they are the fluffiest pancakes I have ever had.  I decided I would look for a recipe that contained buttermilk, and I would make it from scratch. The best thing about making it from scratch is that you make just what you need, and then you don't have a bottle of buttermilk in your fridge for weeks, wondering what to do with the rest of it.
This recipe from Mel's Kitchen Cafe has been floating around the internet as a highly recommended recipe, and I cannot disagree. The cupcakes had the perfect flavor and texture. They are great as vanilla cupcakes, but I also hope to use this as a base to make pumpkin pie cupcakes next month. The possibilities are endless if you have a great vanilla cupcake to start with.
Vanilla Buttermilk Cupcakes (adapted from Mel's Kitchen Cafe)
Ingredients
1/2 cup milk
1 TBSP white vinegar
1 1/2 cups all-purpose flour
1 1/4 tsp baking powder
1/4 tsp baking soda
1/4 tsp salt
12 TBSP butter, softened at room temperature
1 cup white sugar
2 large eggs
1 large egg yolk
2 tsp vanilla extract
Instructions
Preheat the oven to 350 degrees, and place 18 cupcake liners in the pans.
Combine the white vinegar with the milk and set aside for it to sour.
Combine the flour, baking powder, baking soda, and salt into a medium bowl. In a Kitchenaid mixer, cream together the sugar and butter until light and fluffy. Add the eggs and yolk, one at a time to the butter and sugar mixture. Then add the vanilla.
Add 1/3 of the flour mixture to the wet ingredients and mix until incorporated. Next add 1/2 of the buttermilk and mix. Add another 1/3 of the flour mixture and the other 1/2 of the buttermilk, mixing after each addition. Add the final 1/3 of the flour mixture and beat until everything is combined.
Spoon the batter into the cupcake liners, filling only halfway. Bake for 14-18 minutes, until a toothpick inserted in the center comes out clean, or with just a little bit of crumbs.
Let cool, and frost with your favorite frosting. Any flavor would go well with these cupcakes.