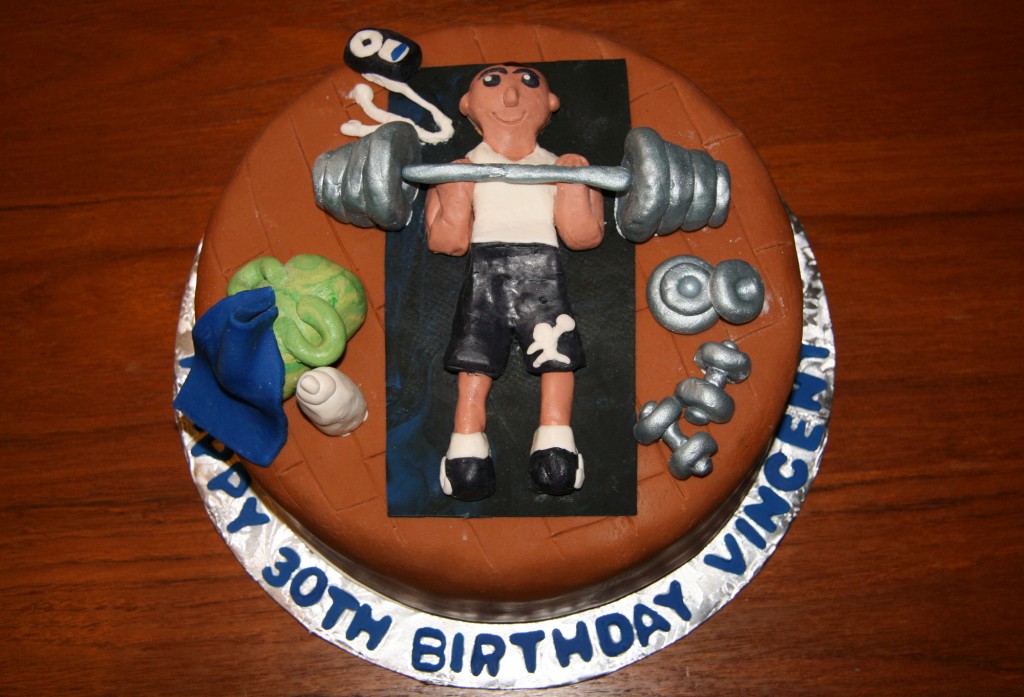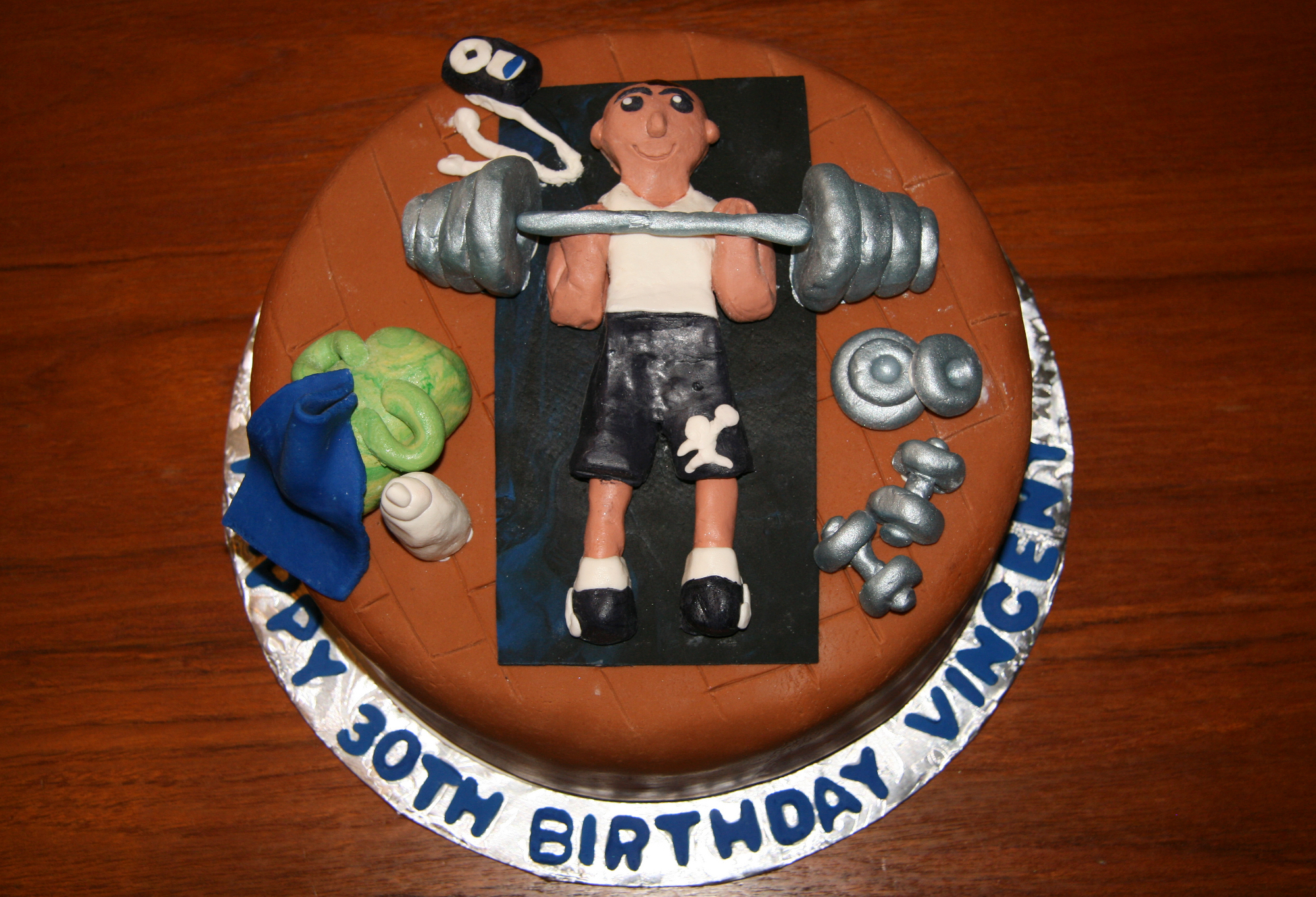 A few weeks ago, a friend of the family hired me to make a 30th birthday cake for her boyfriend. He likes to work out, so she wanted a gym-themed cake. I can't take credit for the design. She sent me this picture as inspiration (made by Donna1914, a member of Cake Central–an online cake-decorating community):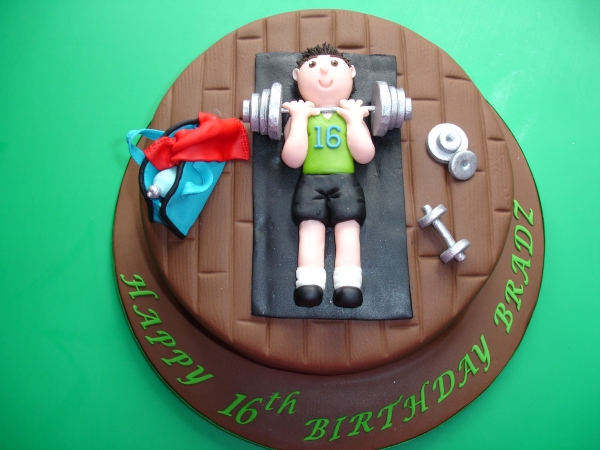 The cake:
I made a 10-inch, 2 layer yellow cake, filled and frosted with chocolate buttercream frosting, and covered with brown marshmallow fondant . All of the figures on top were made from either modeling chocolate or fondant. A soft cake was requested, so I decided to go with a different recipe from my go-to pound cake. I normally don't use this cake, because it is too soft to sculpt.  However, it is absolutely DELICIOUS, and I figured it would be perfect for this cake since there was no carving involved. I just made 2 cakes, and put them on top of one another with a thick layer of chocolate buttercream between them.
All-Occasion Downy Yellow Butter Cake (from the Cake Bible)
Makes two 9-inch cakes (1.5 inches high). For this cake, I used two batches to fill two 10-inch cake pans (2 inches high). However, DO not use all the batter. The pans should be a little under 1/2 full. If they are too full they will overflow. So pour most of the batter in, but DON'T scrape down the sides to get every last bit of batter in.
Ingredients
6 large egg yolks
1 cup milk
2 1/4 tsp of vanilla
3 cups sifted cake flour
1 1/2 cups sugar
1 TBSP+1 tsp baking powder
3/4 tsp salt
12 TBSP unsalted butter, softened
Instructions
Preheat oven to 350 degrees F. Grease two pans with Wilton Cake Release.
In a medium bowl, combine the egg yolks, 1/4 cup of the milk, and vanilla.
In a large mixing bowl combine the flour, sugar, baking powder, and salt. Add the butter and the remaining 3/4 cup of milk to the dry ingredients and mix on low speed until just moistened. Increase the speed to medium, and beat for 1 1/2 minutes to aerate the batter and develop the cake's fluffy structure.
Scrape down the batter from the bowl, and add the egg mixture in 3 batches, mixing for about 20 seconds after each addition. Pour the batter into the pans, and smooth the top with a spatula.
Bake for 25-35 minutes, or until a knife inserted in the center of the cake comes out clean. Let cool for 20 minutes before removing from the pans.
 The figures:
I made the figures a few days before making the cake, so that I could take as much time as I needed to get everything to look right. I made gym guy to look like the birthday boy as best as I could, including his workout attire (she requested black Nikes and Jordan shorts).

I made the head, chest, shorts, arms, and legs all separately, and attached them just using additional pieces of modeling chocolate. Since the chocolate is sticky, it tends to stick to itself fairly well.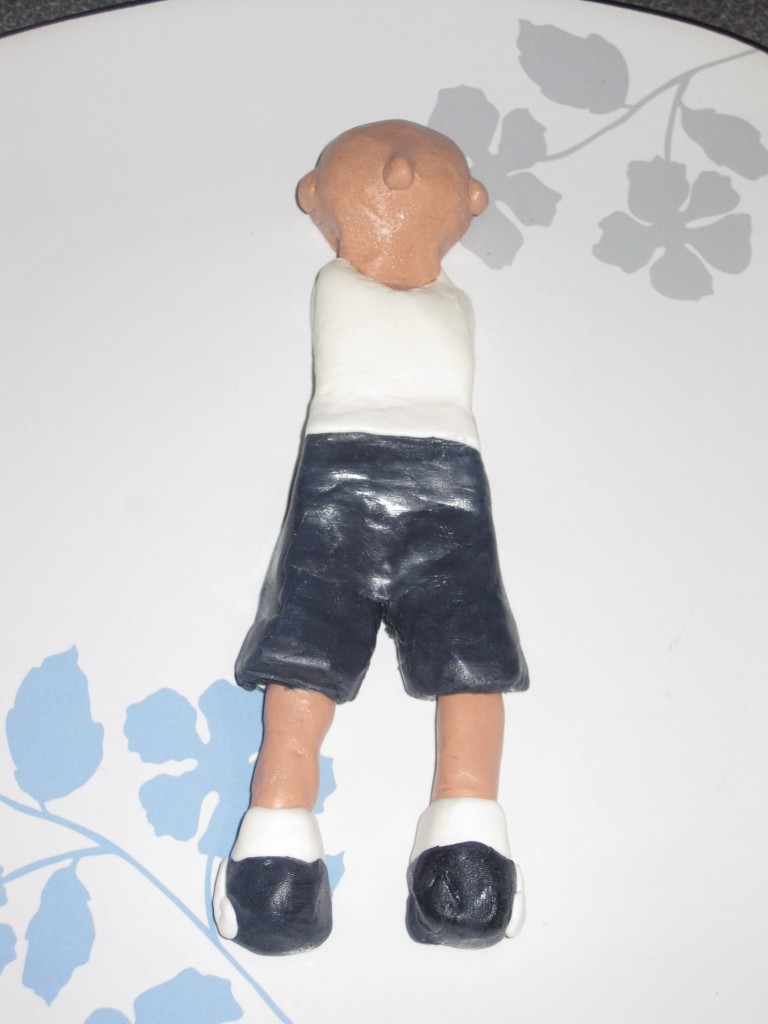 The eyes and nose were also made of modeling chocolate. I painted the hair on with Wilton gel color, since he has a buzz cut.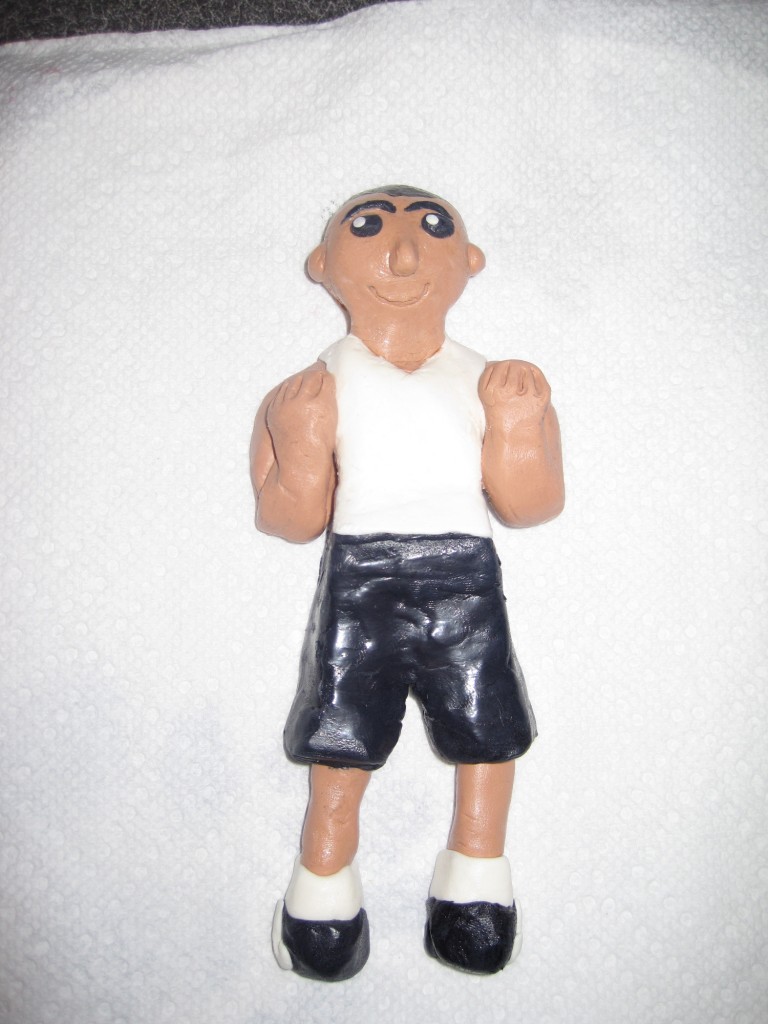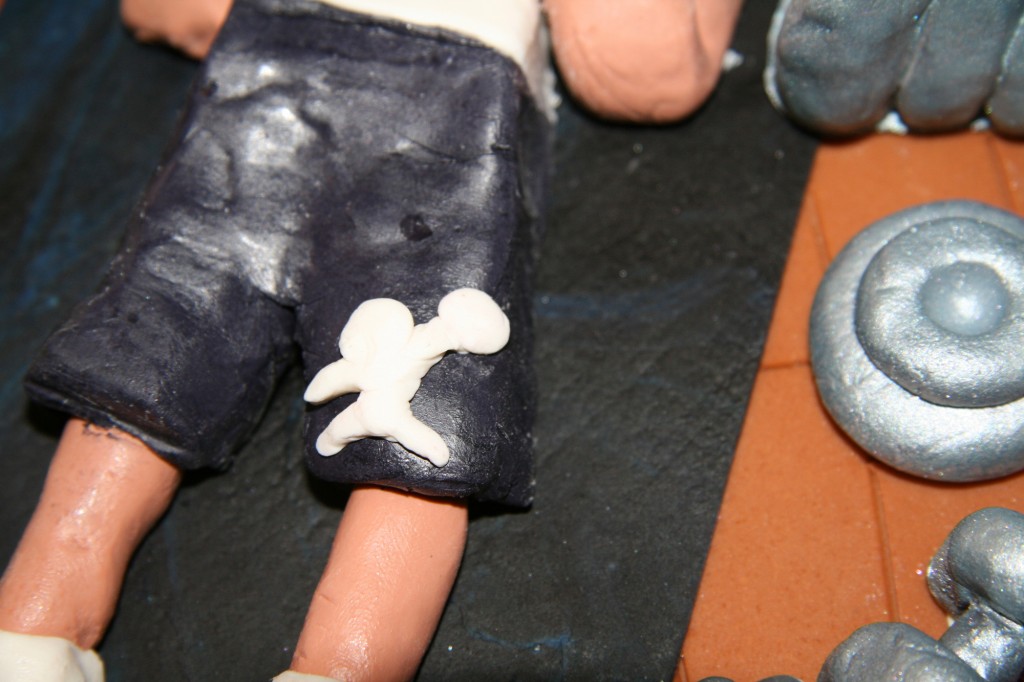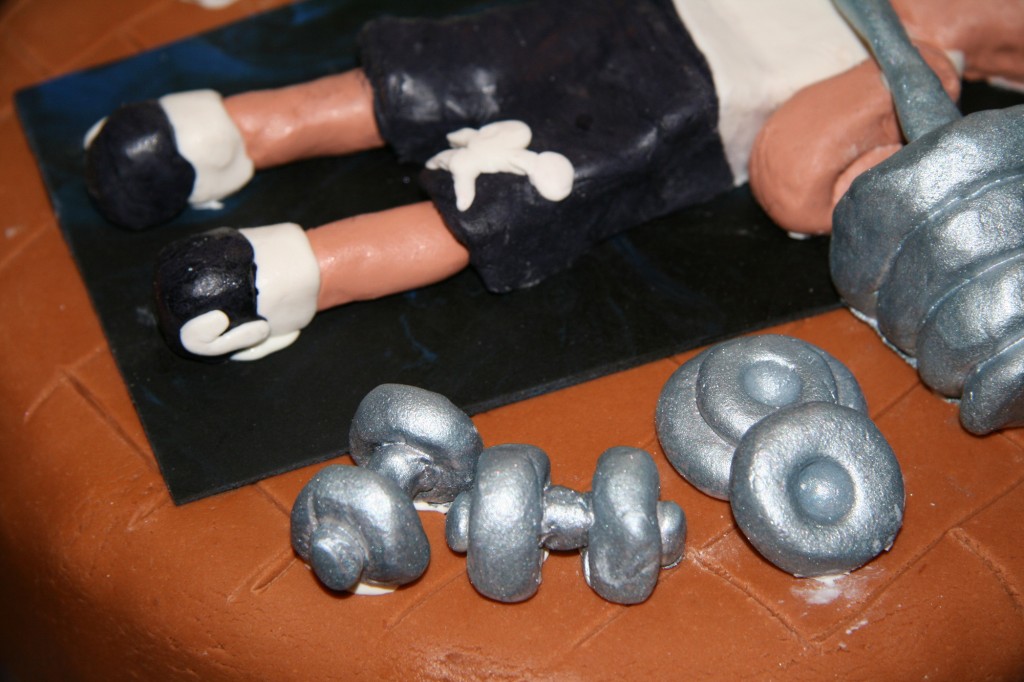 The most important accessory was the set of weights, which I sprayed with edible silver paint. I like to spray the weights while they are on a paper towel, and I leave them to dry for a few hours.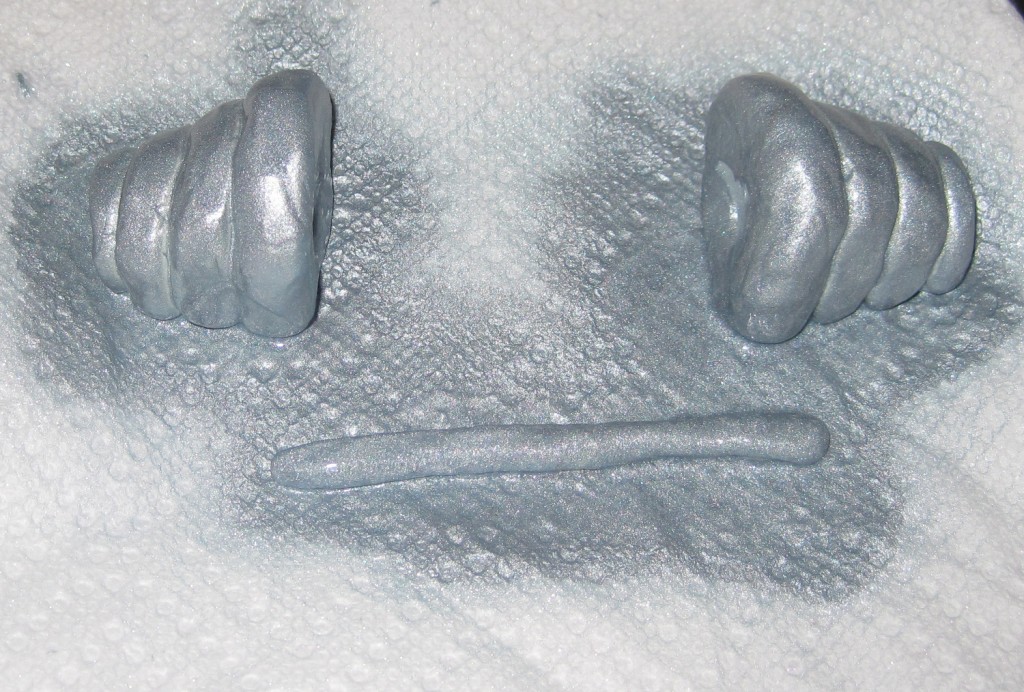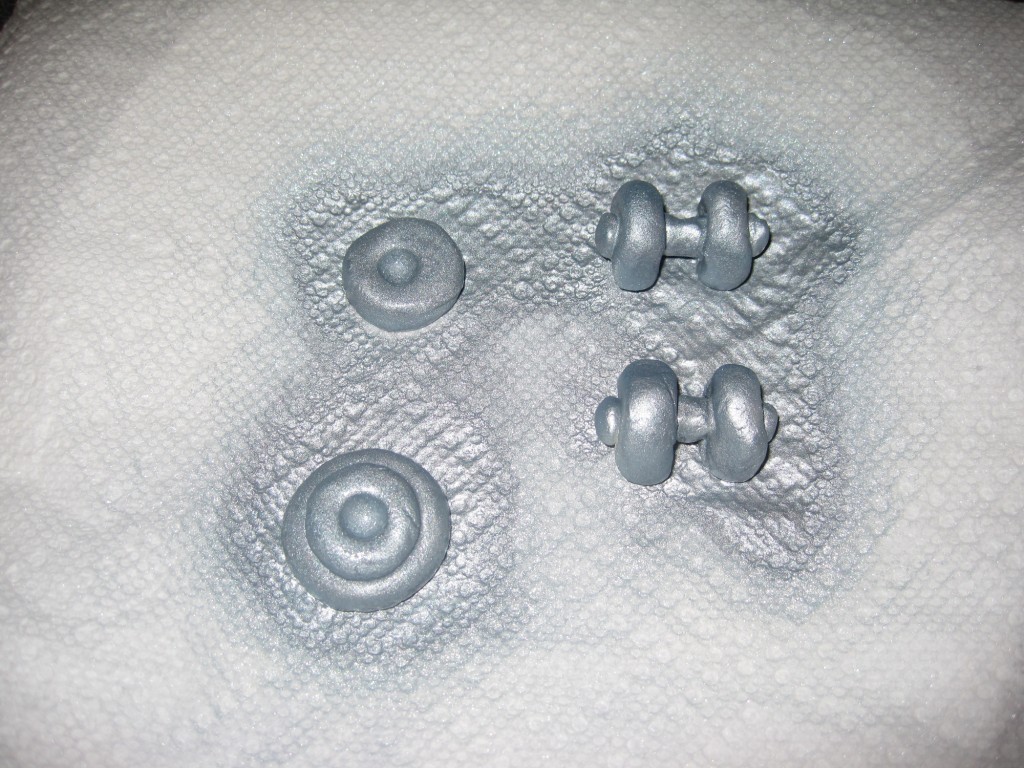 I also made a gym bag, water bottle, and iPod out of modeling chocolate. The gym mat, towel, and Happy Birthday letters were made of fondant, which I left out on the counter for few days to dry. To get the shape of the towel, I folded it over the edge of a plate. Once it dried, the shape stayed perfectly.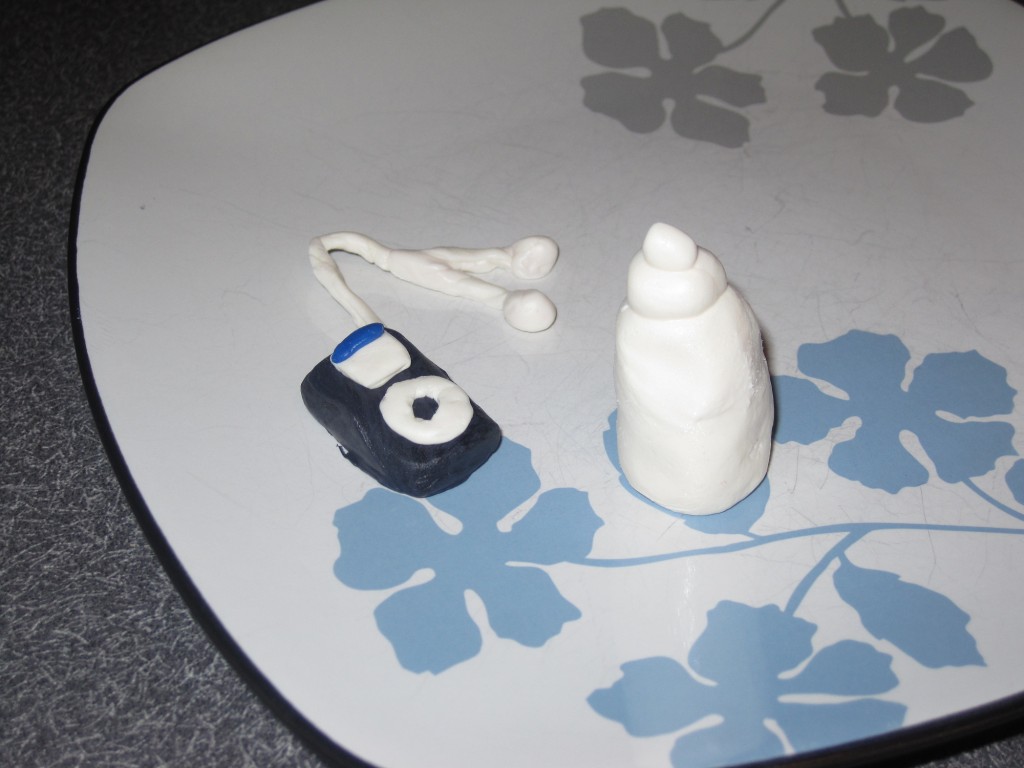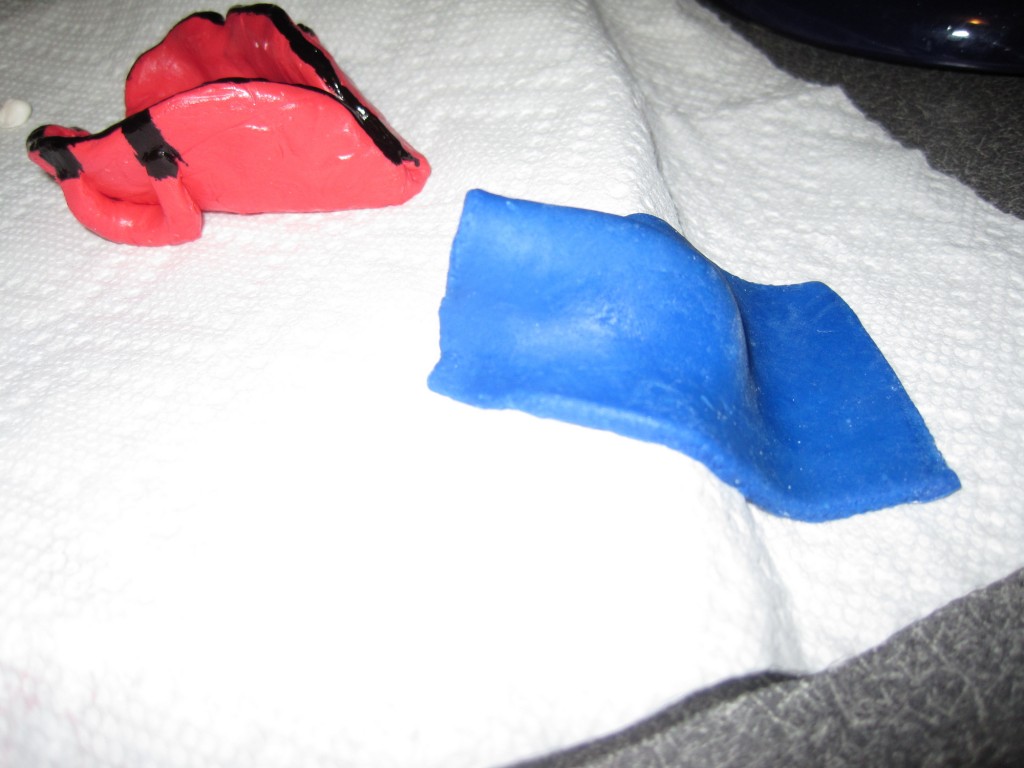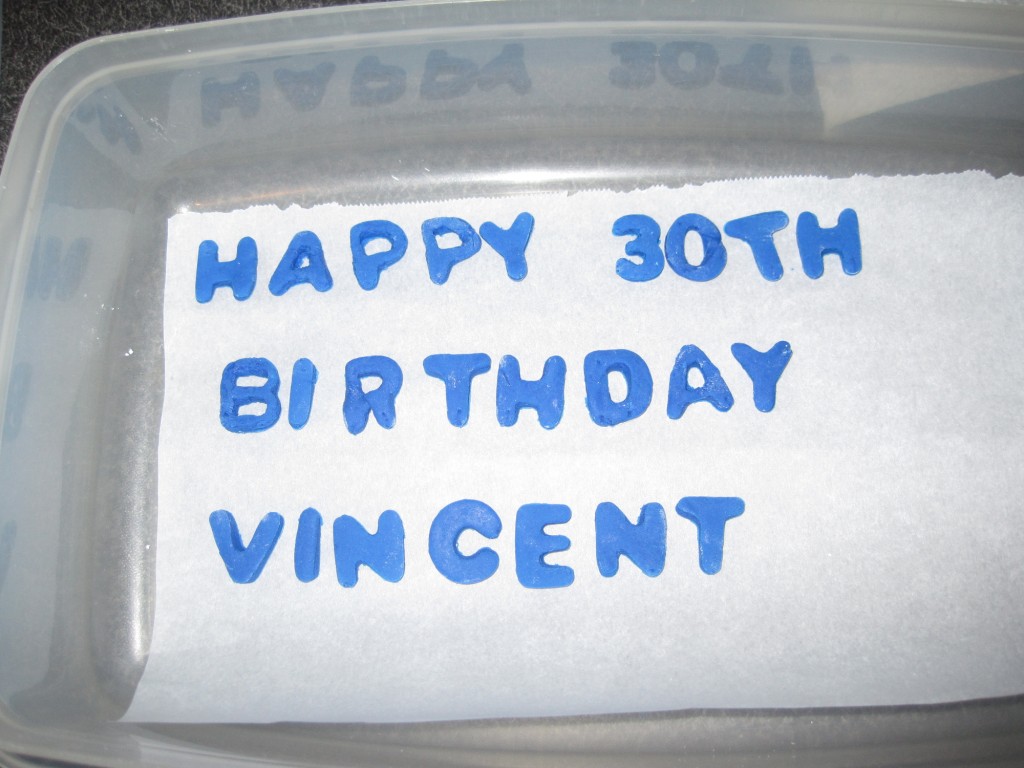 The red gym bag ended up sticky from all the food coloring required to get the red color, so I made a yellow/green one and ended up liking it even better.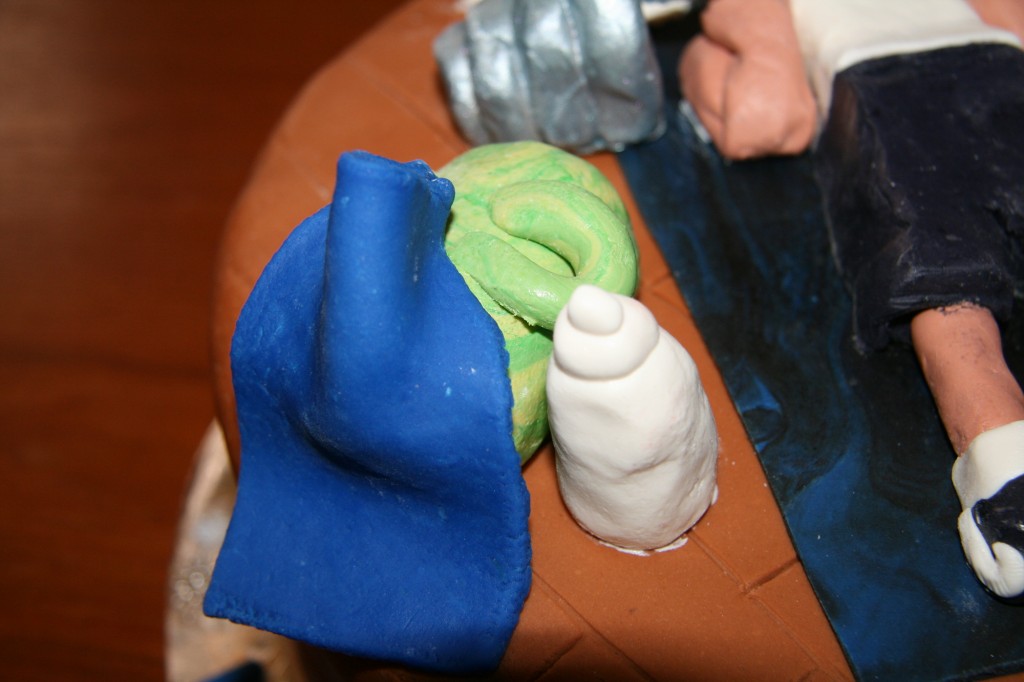 Assembling the cake:
Once the cake was leveled, filled, and frosted with a very thin layer of buttercream, I covered it with brown fondant. I used one of my fondant tools to make the brick pattern. Just a tip, since this cake is very soft and crumbly, you can use a can of compressed air to get rid of any crumbs that may come from leveling the cake.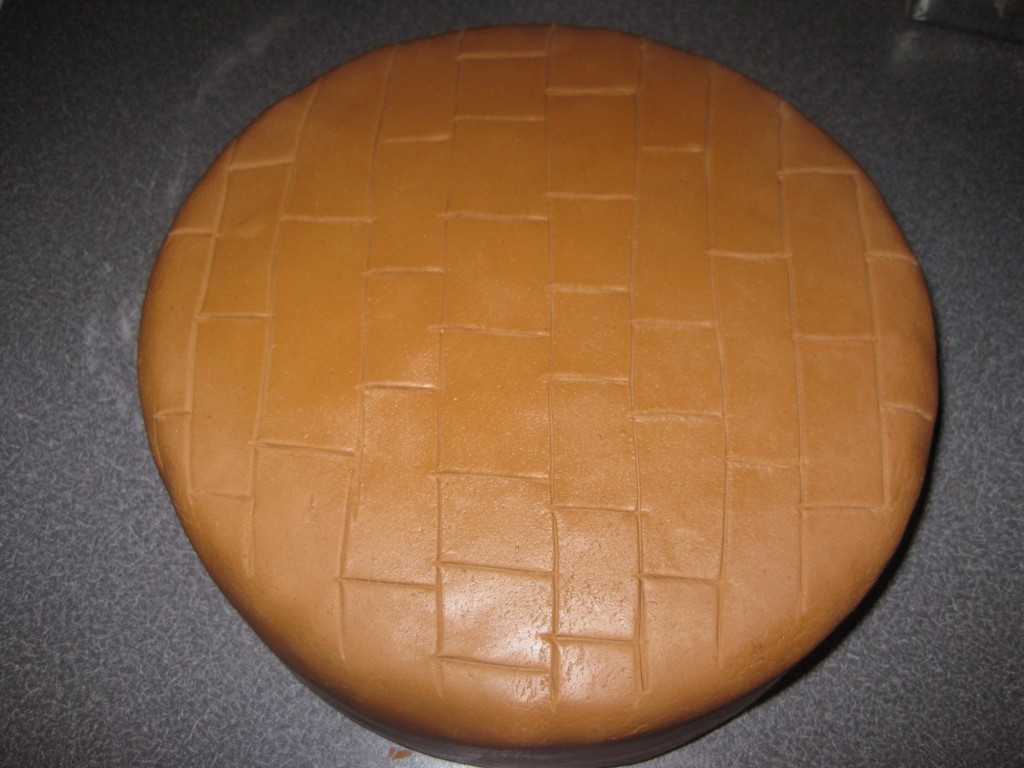 Once covered, I attached the gym mat by wetting the back with water and pressing it on. I attached the weights, gym guy, and accessories with a little bit of melted chocolate.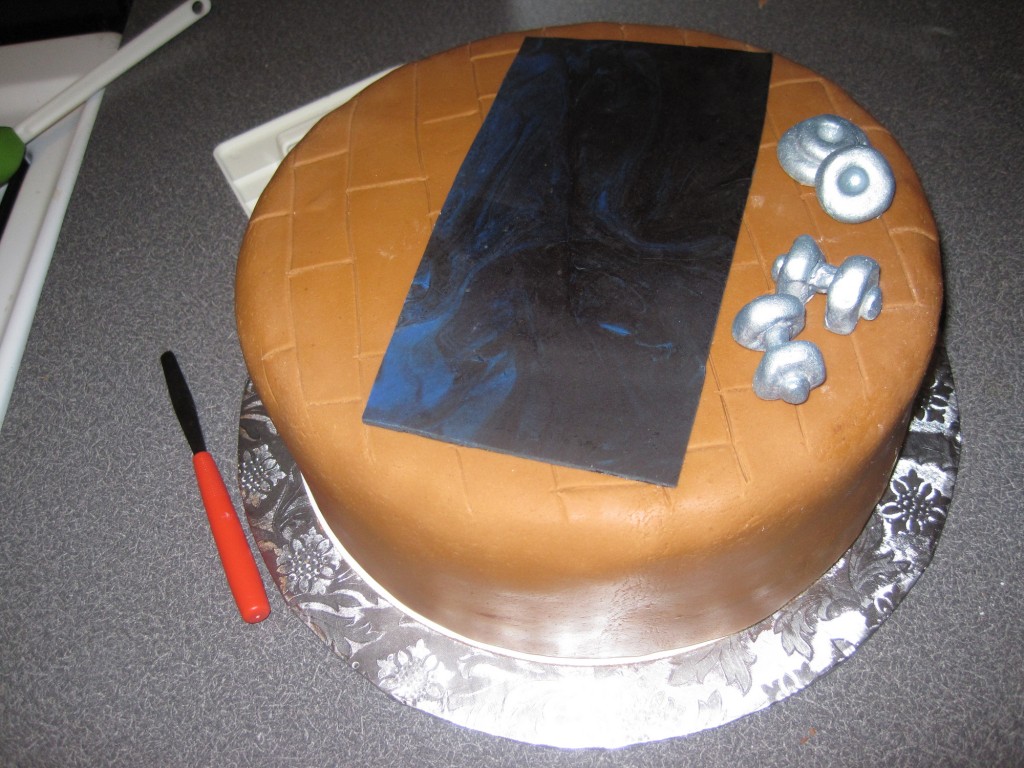 The cake was assembled on a 10-inch cake board, and then placed on a foil-wrapped 12-inch board. I placed the Happy Birthday letters around the board using melted chocolate.