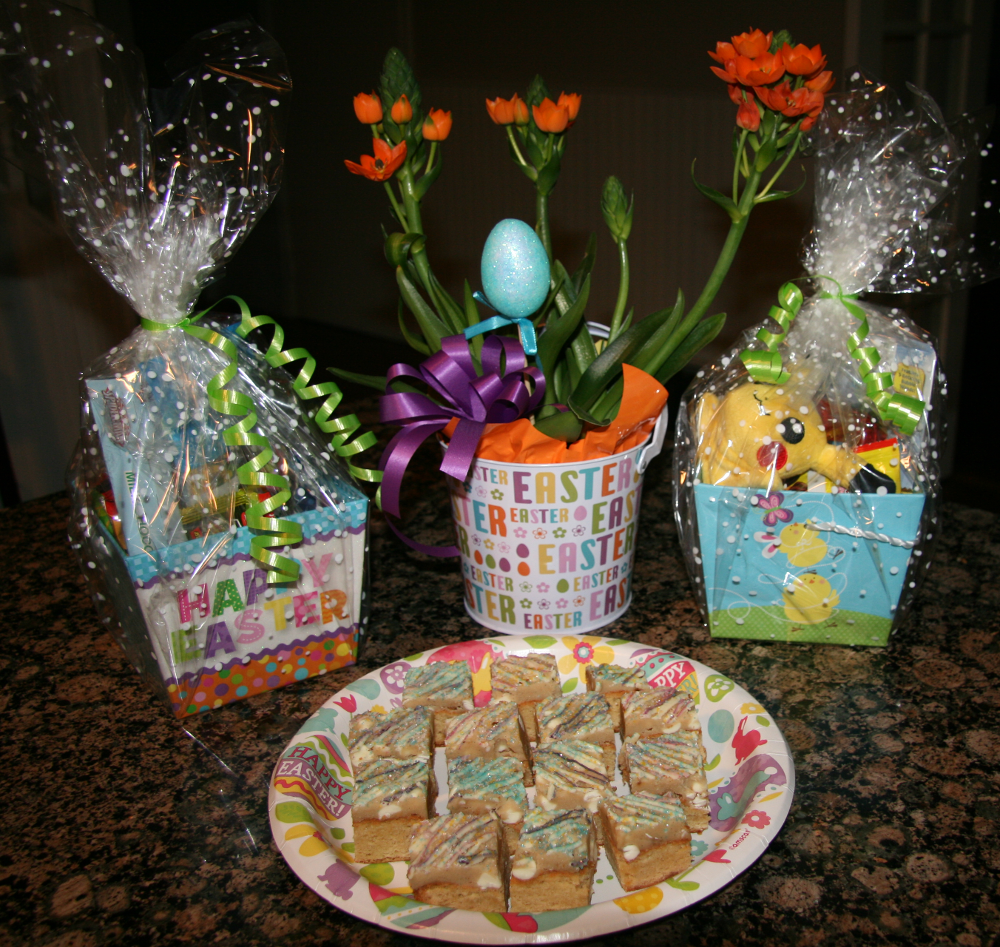 Since I haven't baked anything in the new year, I wanted to bring something sweet to Easter this year (even though my job was to bring a veggie side dish… I went rogue!). I looked through my cookbooks for inspiration, and realized that I bought a signed copy of Lindsay Landis' Cookie Dough Lover's Cookbook and never actually tried a recipe. Here is me meeting Lindsay and getting my book signed.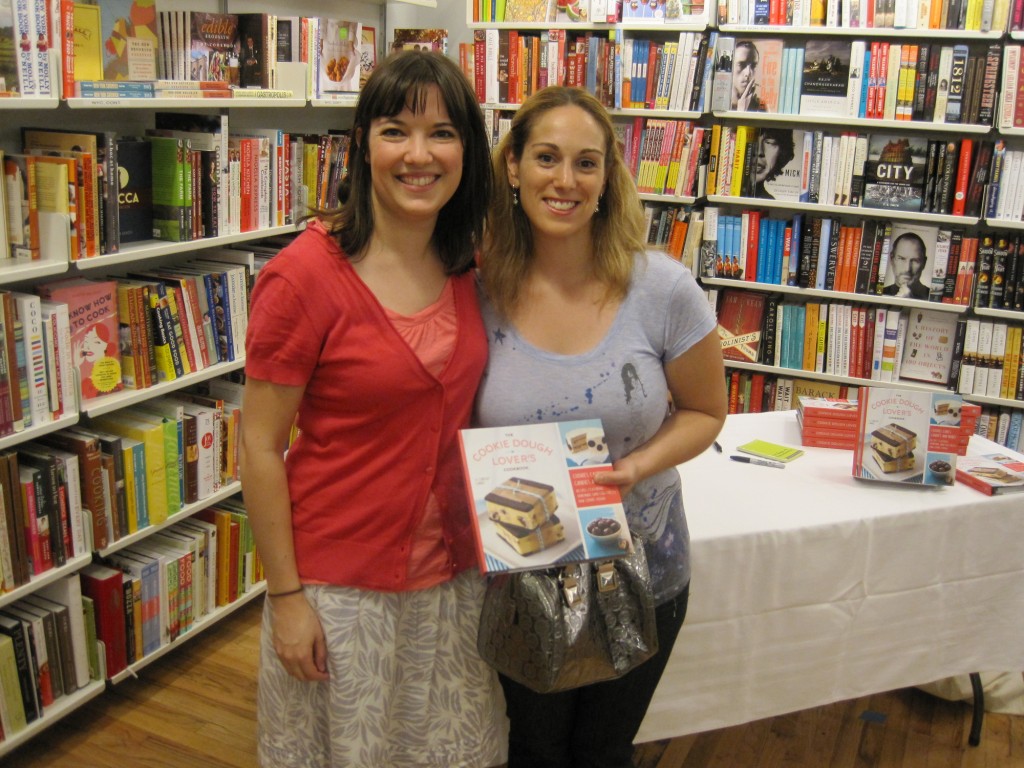 This book is awesome. It is contains recipes that all use a specially formulated cookie dough created by Lindsay. What is special is that there are NO raw eggs in the recipe. So you have all the yumminess of cookie dough without the salmonella.
I can't believe I went nearly FOUR years without trying a single recipe. Since hubby hates chocolate, I decided to try the white chocolate-macadamia nut cookie dough blondies. But I didn't use the macadamia nuts because we have a nut allergy in my family. I was worried they would be missing something , but I just added a little more white chocolate chips instead, and they were perfect. Seriously, they were SO good. Everyone loved them and there were only a few left.
They were soft and cakey, and the cookie dough topping was the best. I decorated mine with pastel sugar to make it festive for Easter. Can't wait to try more recipes from this book!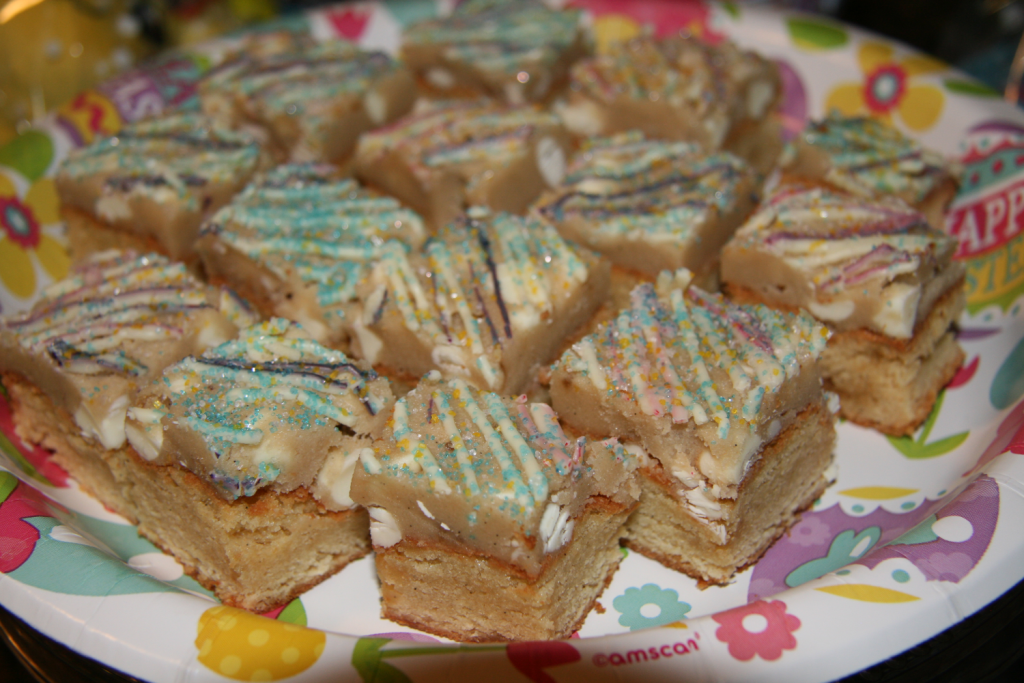 White chocolate cookie dough blondies (modified from Cookie Dough Lover's Cookbook)
Makes 16 blondies, or more if you cut them smaller
Ingredients
For the blondies:
5 ounces white chocolate, chopped
1/3 cup unsalted butter, cut into pieces
1/4 cup granulated sugar
1/2 cup light brown sugar, packed
2 eggs
1 tsp vanilla extract or paste (I LOVE vanilla bean paste so I added this option)
1 cup all-purpose flour
1/4 tsp baking powder
1/4 tsp salt
For the cookie dough:
1/4 cup unsalted butter at room temperature
2 tsp granulated sugar
1/4 cup light brown sugar, packed
1 TBSP milk or cream
1/2 tsp vanilla extract or paste
1/2 cup all-purpose flour
1/8 tsp salt
1/3 cup of mini white chocolate chips (or if using macadamia nuts, use 1/4 cup chocolate chips and 1/4 cup nuts)
For the topping
2 ounces white chocolate melted
Instructions
To make the blondies:
Preheat oven to 350 degrees F. Line the bottom of an 8×8 pan with parchment paper, leaving a slight overhang of paper on two sides. Rub butter over the parchment paper.
Melt chocolate and butter. I did this in the microwave (30 second intervals at 50% power and stir in between), but you can also use a double boiler.
Remove from heat and stir in granulated and brown sugars. The batter should cool to just above room temperature by now.
Whisk in eggs and vanilla until smooth. Then add the flour, baking powder, and salt. Stir until all the dry ingredients are incorporated.
Pour into the pan. Bake 25-30 minutes until the top is golden and a toothpick inserted in the center comes out clean. Move to a wire rack to cool completely.
To make the cookie dough:
While the blondies are cooling, beat the butter and sugars in an electric mixer until light and fluffy, about 2-3 minutes.
Add the milk and vanilla and mix well.
Add the flour and salt and mix until incorporated.
Stir in the white chocolate chips and macadamia nuts (if you are using them).
Spread the dough over the top of the blondies, and drizzle the melted chocolate over the dough.
To serve:
Remove blondies from pan by taking the edges of the parchment paper and lifting out of the pan.
Place on a cutting board and use a large knife to cut 2-inch squares.You may need to trim the edges first to make the blondies nice and even.
Blondies can be stored in an airtight container in the refrigerator for up to 3 days (but they won't last that long!).