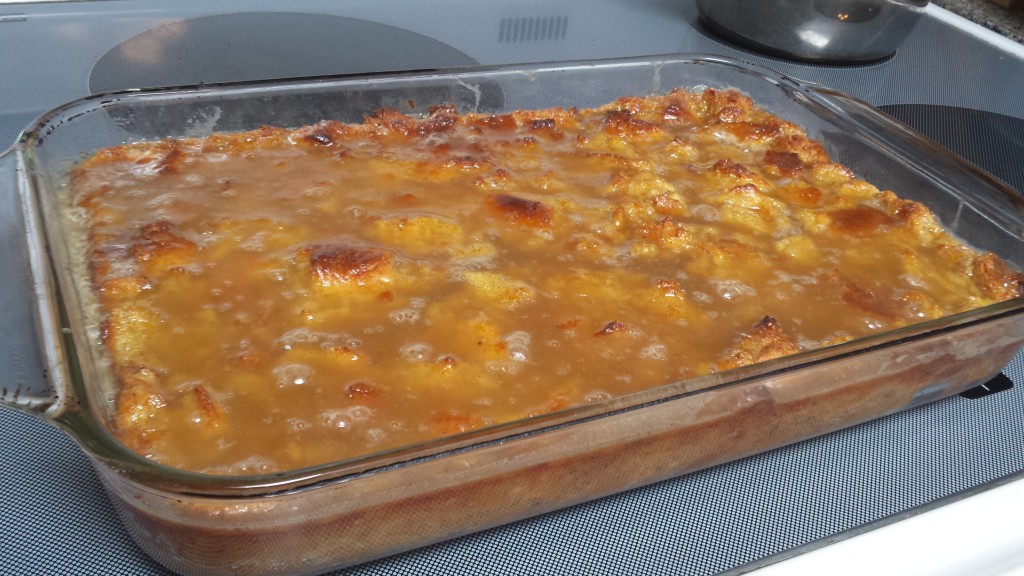 I'm a bit behind in posting, but now that the holidays are over (except NYE), I have some time to catch up. I made this pumpkin bread pudding for Thanksgiving, and it was really good. It had a very subtle pumpkin flavor, but I think the pumpkin puree gave it a nice texture (so I wouldn't omit it from the recipe). So this is perfect if you like pumpkin, but don't LOVE pumpkin.
I used fresh pumpkin, as I always do, but you can use canned as well. I actually made the puree in October and froze it for a month, since there are never any pumpkins around by the time Thanksgiving comes. It worked out fine, and I think you can probably freeze fresh pumpkin even longer. We're going to experiment next October and freeze some pumpkin for about 10 months so we can use it in a beer. Stay tuned!
Pumpkin bread pudding (adapted from tahnycooks.com)
Ingredients
For the bread pudding:
6 eggs
1 1/2 cups whole milk
1 3/4 cups half and half
1 cup sugar
2 tsp vanilla bean paste
1 cup fresh pumpkin puree (can use canned)
2 tsp cinnamon
1 tsp nutmeg
1 tsp pumpkin pie spice
6 cups of cubed bread (I used Challah bread)
For the butter sauce:
1/2 cup light brown sugar, packed
1/4 cup butter
1/3 cup light Karo syrup
1/4 cup half and half
Instructions
To make the pudding:
Preheat oven to 350 degrees.
Beat eggs in a bowl by hand. Then add the milk, half and half, sugar, vanilla bean paste, pumpkin, cinnamon, nutmeg, and pumpkin pie spice. Whisk until combined. Stir in the cubes of bread.
Spray a 9×13 Pyrex baking pan with Pam cooking spray. Add bread pudding mixture and let sit for about 20 minutes so the bread soaks up the egg and milk.
Bake 45-55 minutes, until a knife inserted in the center comes out clean.
Serve with warm butter sauce. You can make the pudding ahead of time and make the sauce a day later to serve, but make sure you bring the bread pudding to room temperature before pouring on the sauce, so it soaks in. You can even make little slits with a knife before pouring so that it gets absorbed. No need to do this if you pour the sauce on when the bread pudding is fresh out of the oven.
To make the sauce:
Heat the brown sugar and butter in a saucepan until it melts.
Then add the Karo syrup and half and half. Stir constantly over medium-low heat until all the sugar is dissolved. This takes 1-2 minutes. Pour evenly over bread pudding and serve.