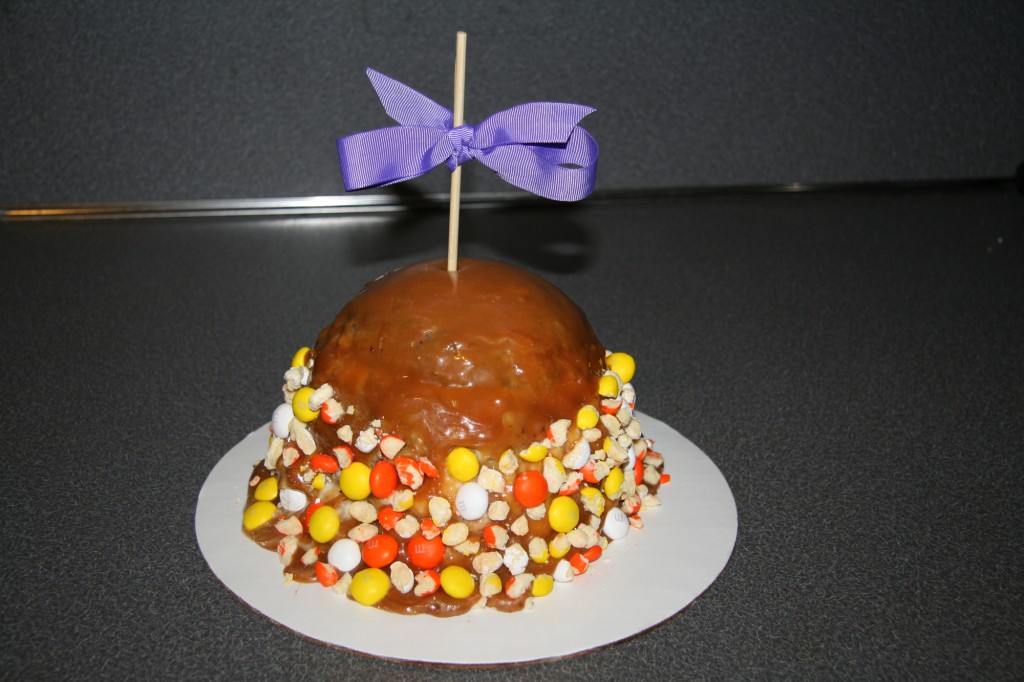 I know, I know…everyone is SO over fall and ready for the holiday season. Out with pumpkin and in with peppermint and gingerbread! I made this cake around Halloween, and didn't get to post about it until now. It's been a busy few months.
To make the cake look like a caramel apple, I poured melted caramel over the frosted cake, and then added crushed candy to the bottom (in this case, it was candy corn-flavored m&ms). To make the caramel, melt a bag of caramels with 2 TBSP of water over medium heat on the stove top. Wait for the caramel to cool and thicken before pouring on the cake. Otherwise, the caramel will melt the frosting and  it will come out very thin. I learned this the hard way. After the cake is covered, wait 5 or so minutes  for the caramel to set and add the candy. Then add a wooden skewer and bow and you are all set.
The inside is a pumpkin cake, frosted with traditional buttercream frosting . To get the round shape, I used my Wilton Sports Ball Pan Set. I bought it for another project originally, but I find it comes in so handy anytime I need a perfectly spherical cake. This pan requires a heartier cake batter (as opposed to a delicate cake), otherwise the cake will fall. I was quite happy to find that this cake held up well in the pan.
Pumpkin Cake (modified from Allrecipes.com)
Ingredients
2 cups white sugar
1 1/4 cups vegetable oil
1 teaspoon vanilla extract
2 cups fresh pumpkin puree
4 eggs
2 cups all-purpose flour
3 teaspoons baking powder
2 teaspoons baking soda
1/4 teaspoon salt
2 teaspoons ground cinnamon
Instructions
Preheat oven to 350 degrees. Cover cake pan with Wilton Cake Release.
In a large bowl, sift together the flour, baking powder, baking soda, salt, and cinnamon.
Combine together the sugar and oil in an electric mixer. Add the vanilla pumpkin and beat until smooth. Add the eggs one at a time. Gradually add in the dry ingredients until the batter is uniform.
Bake in the oven (30 minutes using a 12×18 pan or 45-50 minutes using the Wilton Sports pan) until a toothpick inserted in the center of the cake comes out clean.
Notes
Because baking time varies depending on the pan used, I would be cautious and set the timer for 30 minutes and start checking every 5-10 minutes thereafter. This way, you do not run the risk of overcooking the cake.