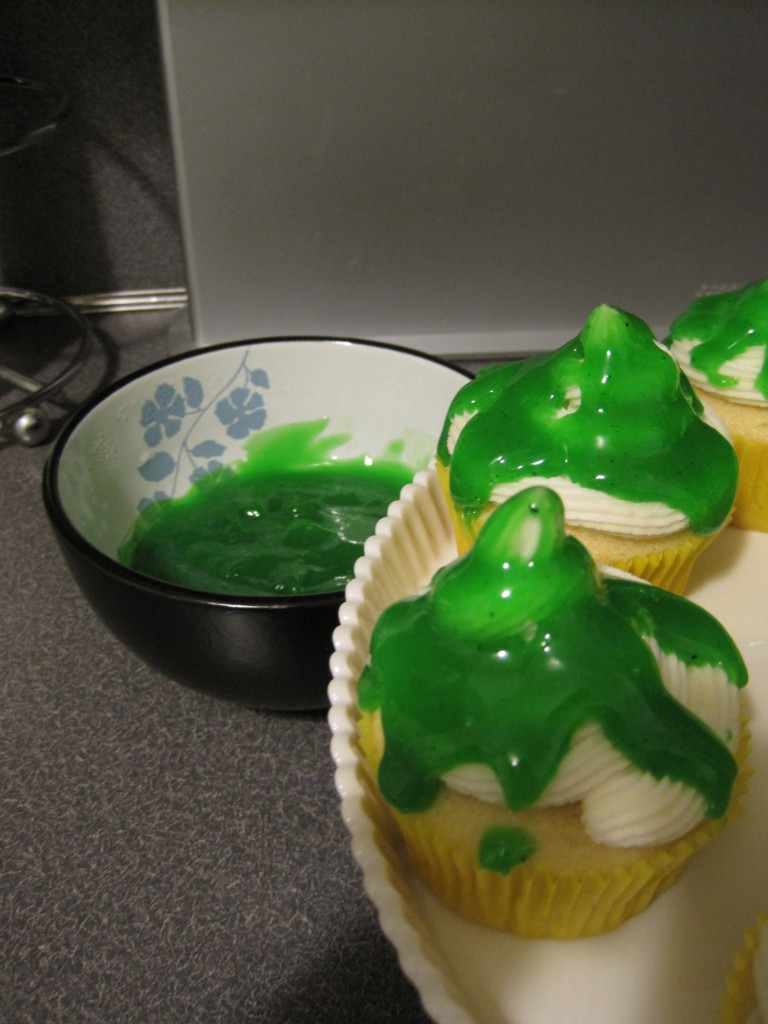 A few weekends ago, we attended a Ghostbusters-themed birthday party for our friend's son who was turning 4. The invitation warned, "prepared to be slimed!" So I thought it was only appropriate that I make green slime cupcakes for the occasion. They had an AMAZING sculpted cake of Slimer at the party (made by one of the bakers shown on the Food Network) and so my cupcakes ended up going nicely with the theme.
I made lemon cupcakes with traditional piped buttercream. The real challenge was how to make the slime. I needed something tasty, translucent, and slightly gooey so that it wouldn't just drip everywhere. I found a recipe online (from bakingbites.com) for lime curd, and from the picture it looked perfect. The green color comes from food coloring, so the lime is just a nice complementary flavor.
Well, I tried the lime curd, and it was WAY too strong. I don't know if it was the fact that I used bottled lime juice, or just that lime is meant to be taken in small doses. Either way, it was not good. I should say that the original recipe called for a small amount of the curd to be placed inside of the cupcake. This probably tastes really good. But for the way that I needed it (a lot of curd on top of the frosting) I think it was just too much lime flavor. So I decided to make the recipe again with lemon juice this time. The result was MUCH better. The slightly sour curd mixed well with the sweet buttercream. The consistency was absolutely perfect.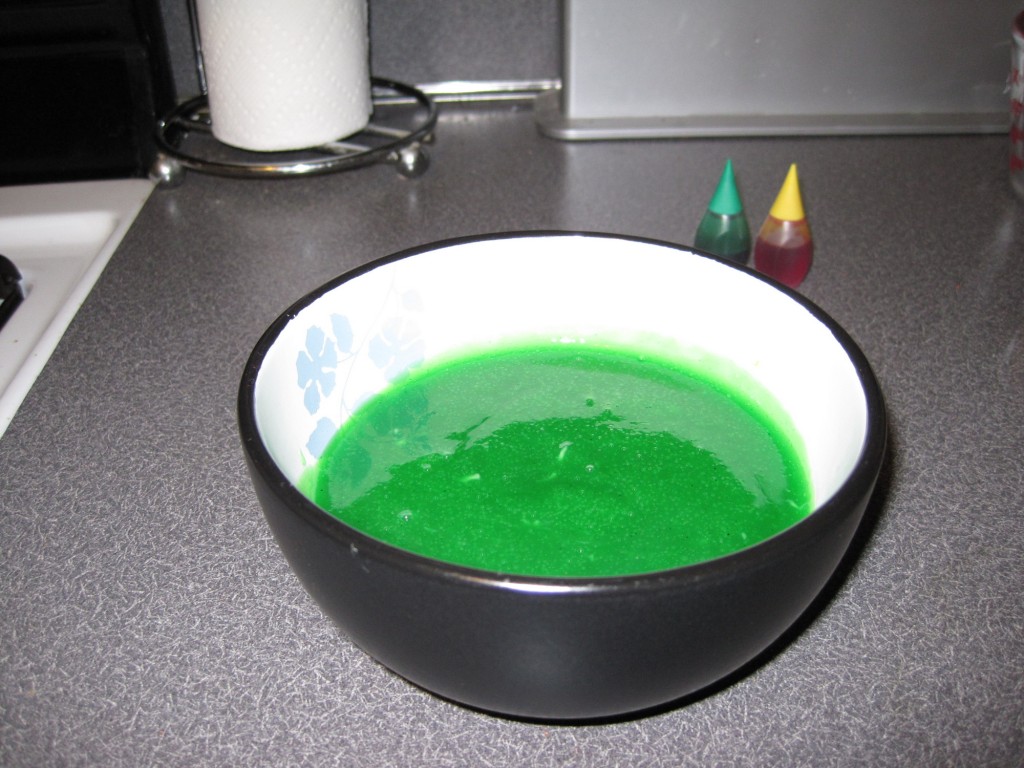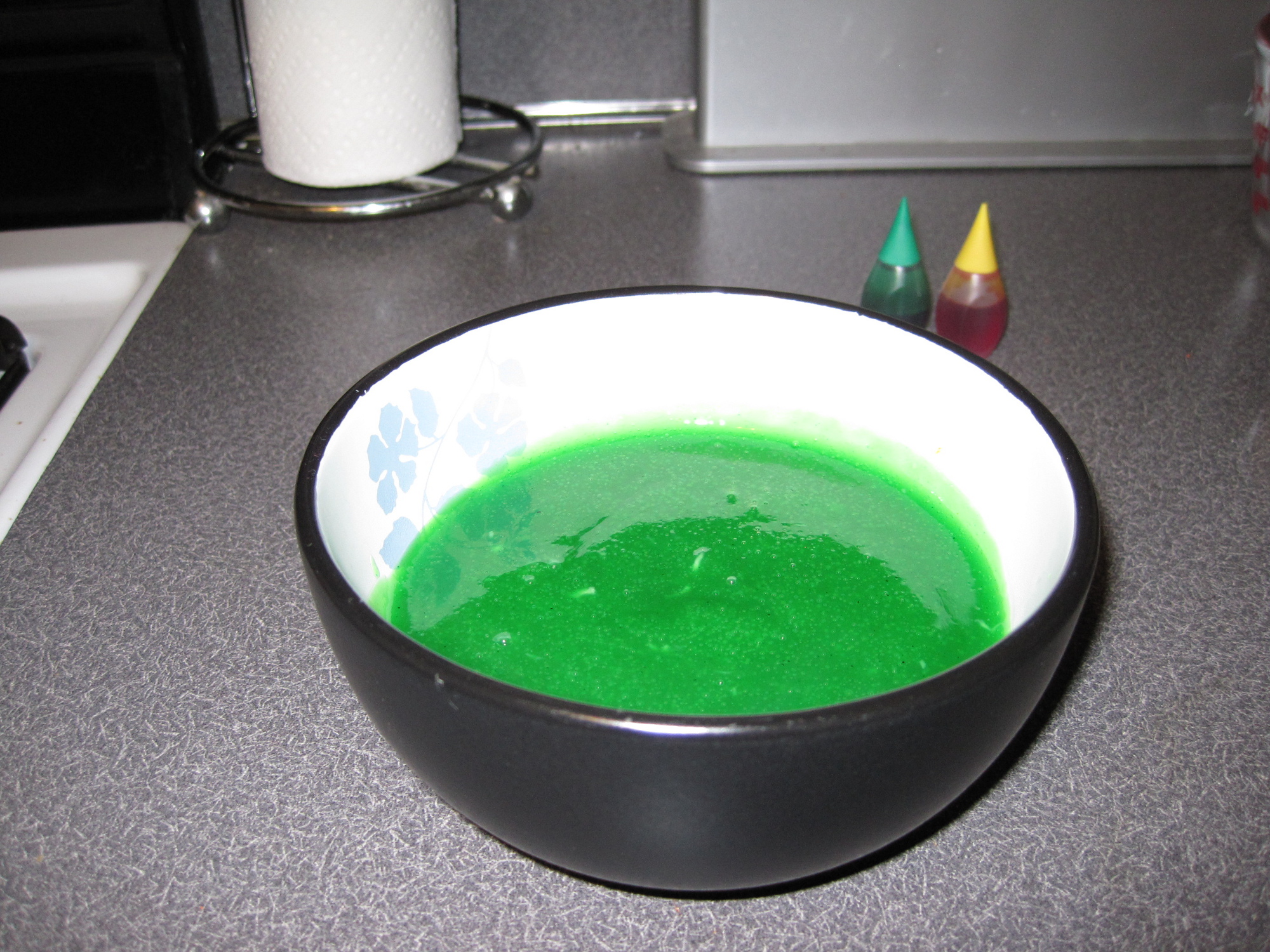 Lemon Curd Slime (modified from Bakingbites.com)
Makes enough to cover 12 cupcakes
Ingredients
2/3 cup bottled lemon juice
3/4 cup sugar
2 large eggs at room temperature
8-10 drops green food coloring and 2-3 drops of yellow
Instructions
Dissolve sugar into lemon juice over medium heat in a saucepan
Lightly beat the eggs in a small bowl. Then trickle the hot lemon syrup into the eggs, whisking constantly. Beat for about a minute and return the mixture to the saucepan.
Cook over medium heat, stirring constantly, until the curd starts to bubble and thicken. While it is cooking, mix in the food coloring.
To get a completely smooth texture, strain the curd through a fine mesh sieve after you take it off the heat. As you can see from the picture, sometimes bits of cooked egg remain in the mixture. So it is best to remove these before putting your curd in the refrigerator.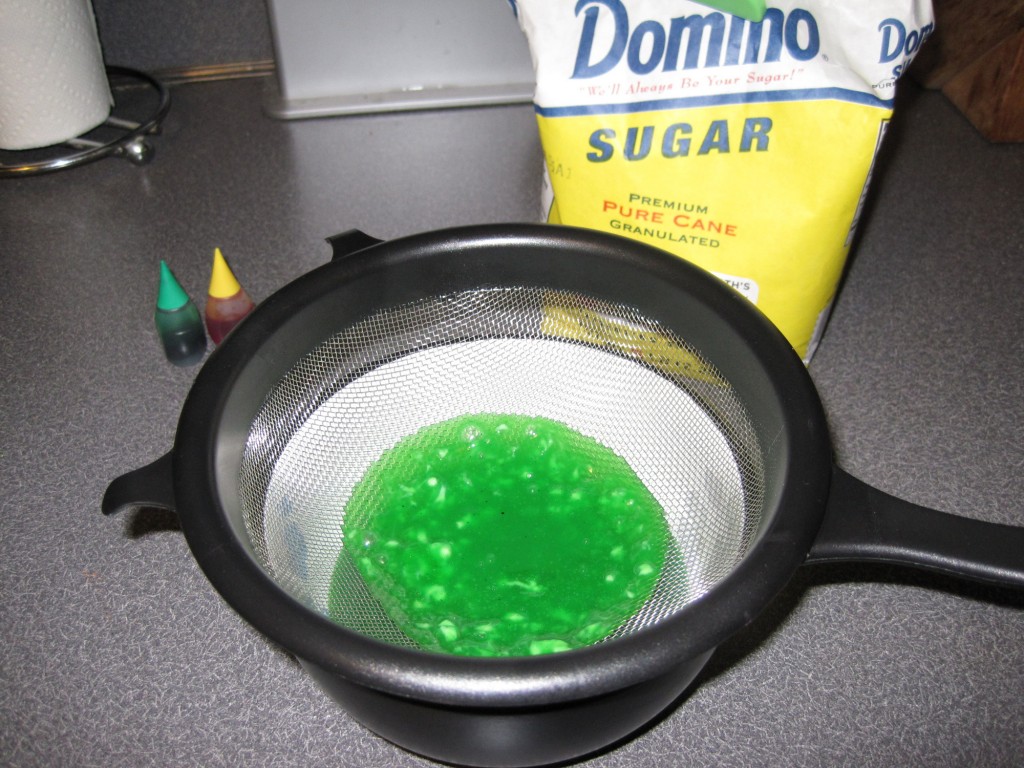 Cover with plastic wrap, and chill for a few hours before using. To use on cupcakes as I have, gently spoon a small amount of curd on top of the frosting, and let it trickle down. Don't use too much, or you will end up with a drippy mess! I piped my frosting with a #32 Wilton star tip.