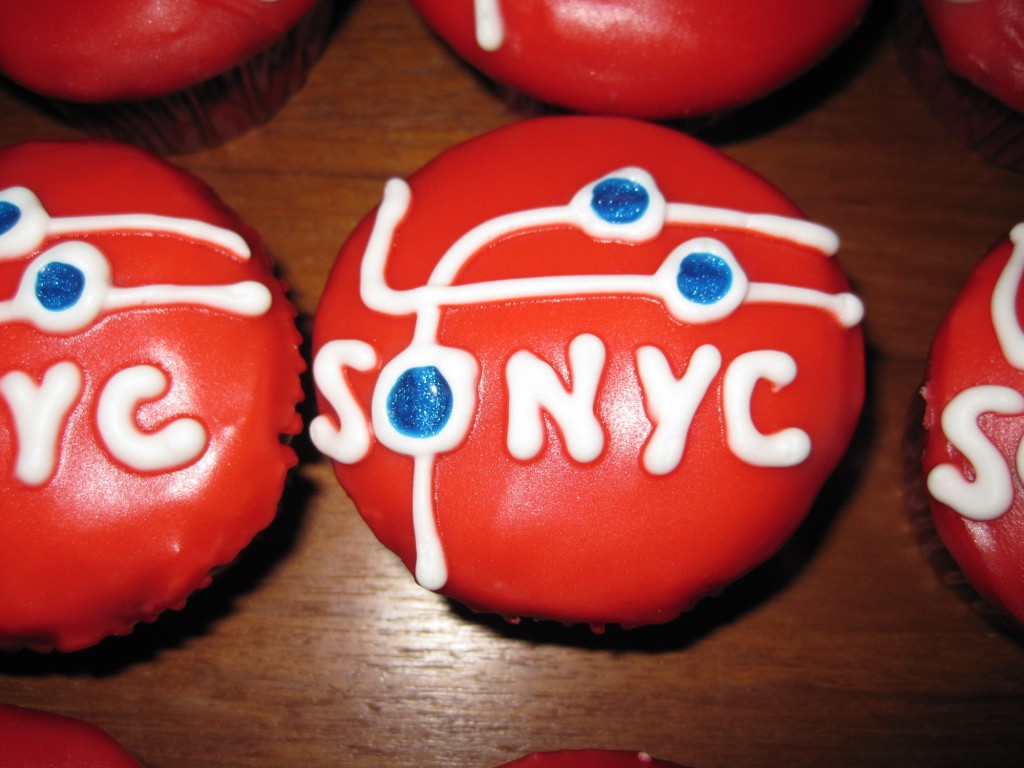 SoNYC (Science Online NYC) is a monthly meeting that I attend, that holds discussions about science communication through social media and other online resources. The May 2nd meeting marked SoNYC's first birthday, and I made 6 dozen cupcakes for the event!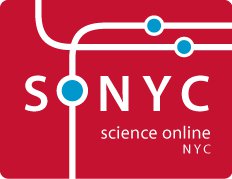 SoNYC has a very distinctive (and cool) logo that I wanted to be the focal point of the cupcake.  I decided to do a red velvet cupcake, with a buttercream frosting, topped with a red poured fondant. Then I piped the logo with white royal icing, and the blue dots with Wilton blue glitter gel.
The cupcakes were a huge hit, and I thought they tasted great! It sort of reminded me of a moon pie, with a hard outside and a nice and fluffy inside.  I started making the cupcakes over the weekend for the Wednesday event, and they were still perfectly fresh and soft when served.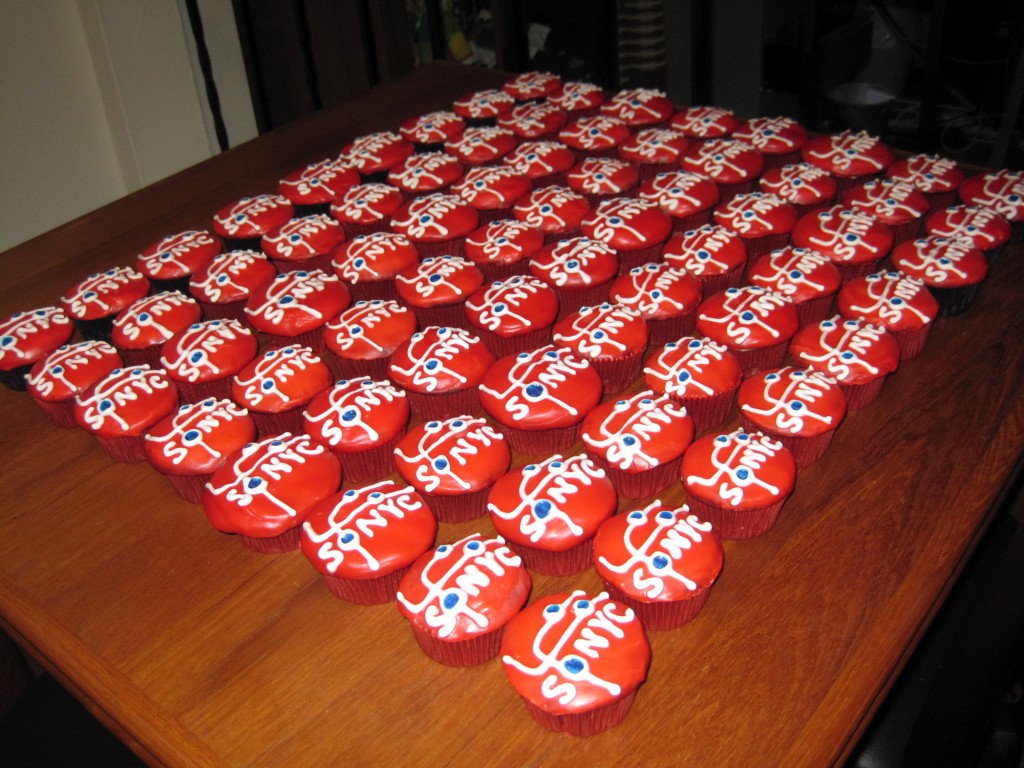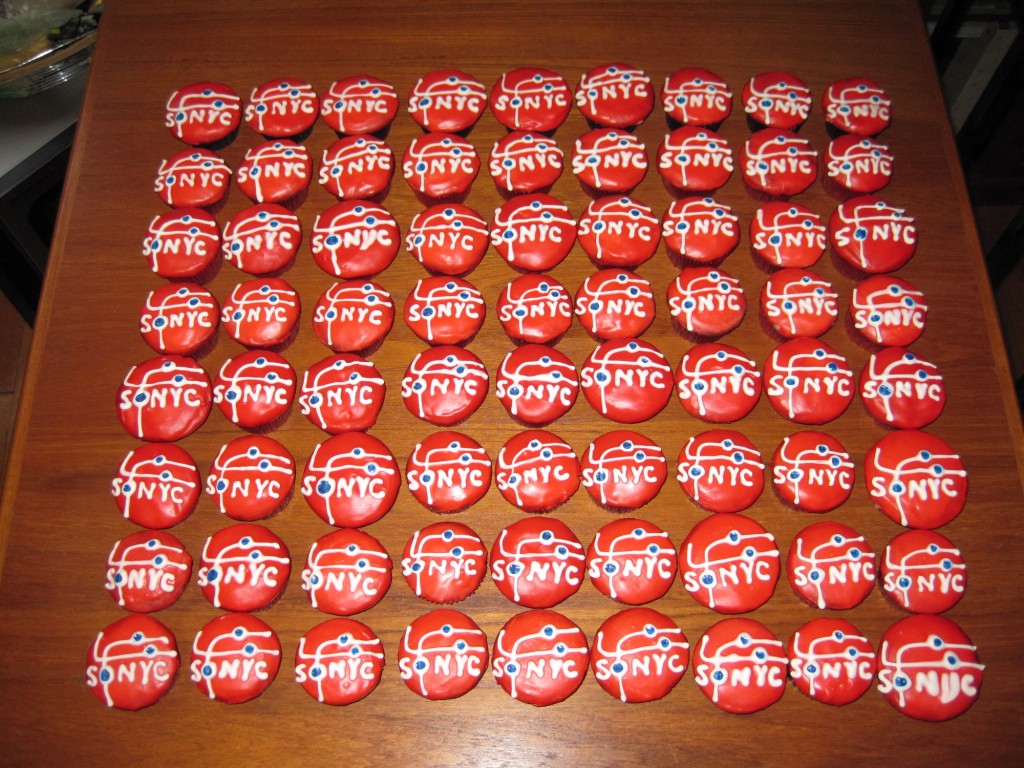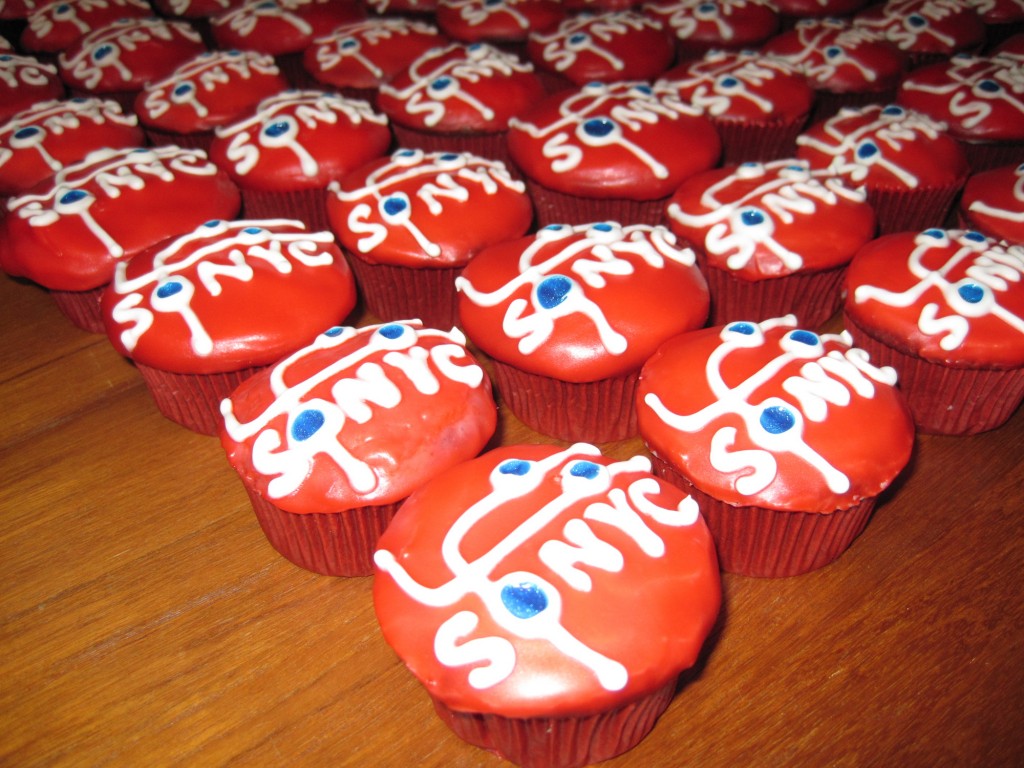 Quick Pour Fondant Icing (from the Wilton website)
Ingredients
6 cups confectioners sugar
1/2 cup water
2 TBSP light corn syrup
1 tsp no-color almond extract
Food coloring, if desired
Instructions
Cover the cupcakes with a light layer of frosting and let sit for 15 minutes.
Place the sugar in a large saucepan. Mix the light corn syrup with the water and add to the pan. Stir until the sugar is dissolved. After it is dissolved, cook over low heat until it is pouring consistency. Remove from heat and add the almond extract and food coloring. Do not let the mixture exceed 100 degrees F.
Dip the cupcakes upside down into the fondant and allow to drip. Turn right side up and let cupcakes dry on a plate or cookie sheet.
Any extra fondant can be saved for a few days and reheated over the stove until it is pouring consistency again. Just place it in an airtight container in the refrigerator.
Some tips you may find helpful:
Poured fondant can be tricky, so here are some tips I think you will find helpful. They are based on all the mistakes I made during this process
1. Poured fondant is like a thin silk dress: it shows EVERYTHING underneath! Your frosting needs to be smoother than a baby's butt, so don't forget to smooth it with a hot knife before dipping!
2. You really need to make sure you don't overheat the fondant. If you do, it will become thick and gooey, and will not cover the cupcakes smoothly. Once the fondant becomes pouring consistency, immediately remove it from the heat. Once you have mixed in your almond extract and coloring, pour it into a bowl for the cupcake dipping.
3. Patience, patience, patience. After you have dipped the top of your cupcake (just up to where the wrapper begins) hold it upside down and gently shake until no more icing drips off. If you turn the cupcake over prematurely, you will have dripping down the sides.
4. It is best if you never refrigerate the cupcakes once they are dipped. Taking them in and out of the refrigerator will just cause the icing to sweat and possibly drip. You can store them in large foil food containers, since they hold a lot of cupcakes and are very deep.
5. You want your royal icing to be a fairly thin consistency so you can easily write your logo. To get the right consistency, gradually add water and stir. Wait for the poured fondant to dry completely before piping the logo on top. You will want at least 12 hours for the royal icing to dry.  So don't decorate the cupcakes the day of the event! (I didn't make this mistake, but I noticed that my icing took a while to dry, due to the high water content).
Happy Birthday, SoNYC!