Peeps, Cadbury creme eggs, chocolate bunnies…so many yummy treats for one holiday! My personal favorite is the creme egg. I have to have at least one every year (and most years it is a lot more than one!). My other favorite treat is the Easter egg bread that you see at a lot of Italian bakeries. It is braided and usually has 5 colored eggs popping through the braids. This year, I decided to pay homage to both of these treats and make them for our Easter celebration tomorrow. Last year I found a recipe for the bread, and I think I perfected the technique this year.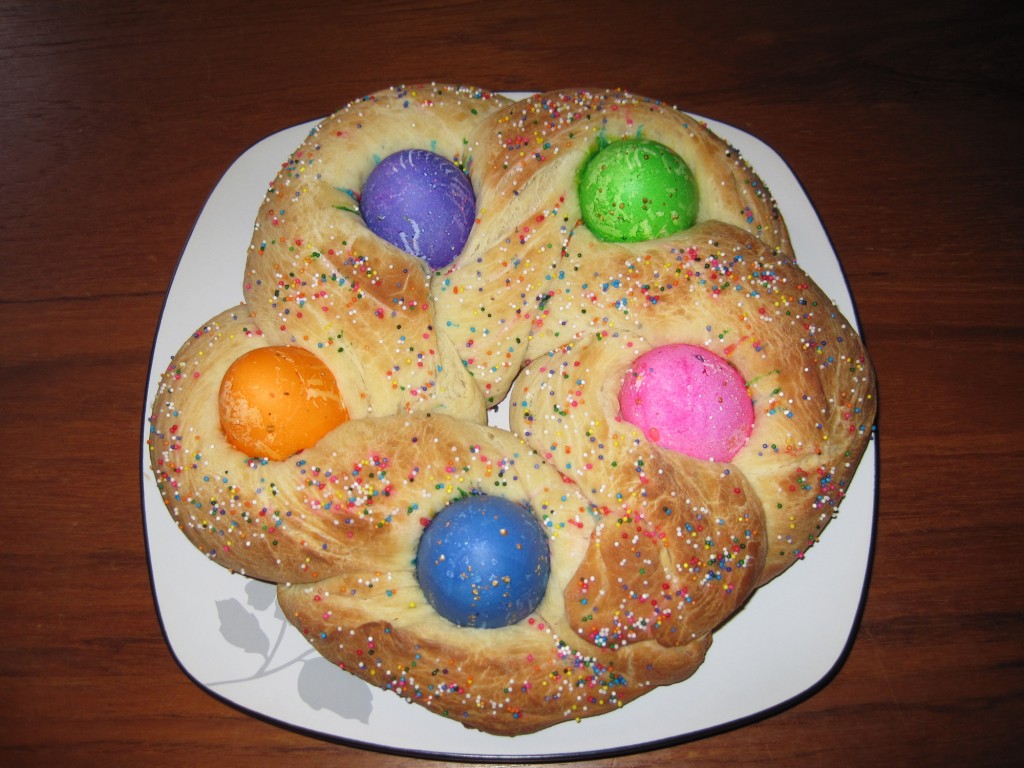 For the creme eggs, I found a great recipe for Cream Egg Brownies on the blog Love & Olive Oil that are strikingly similar to the candy version.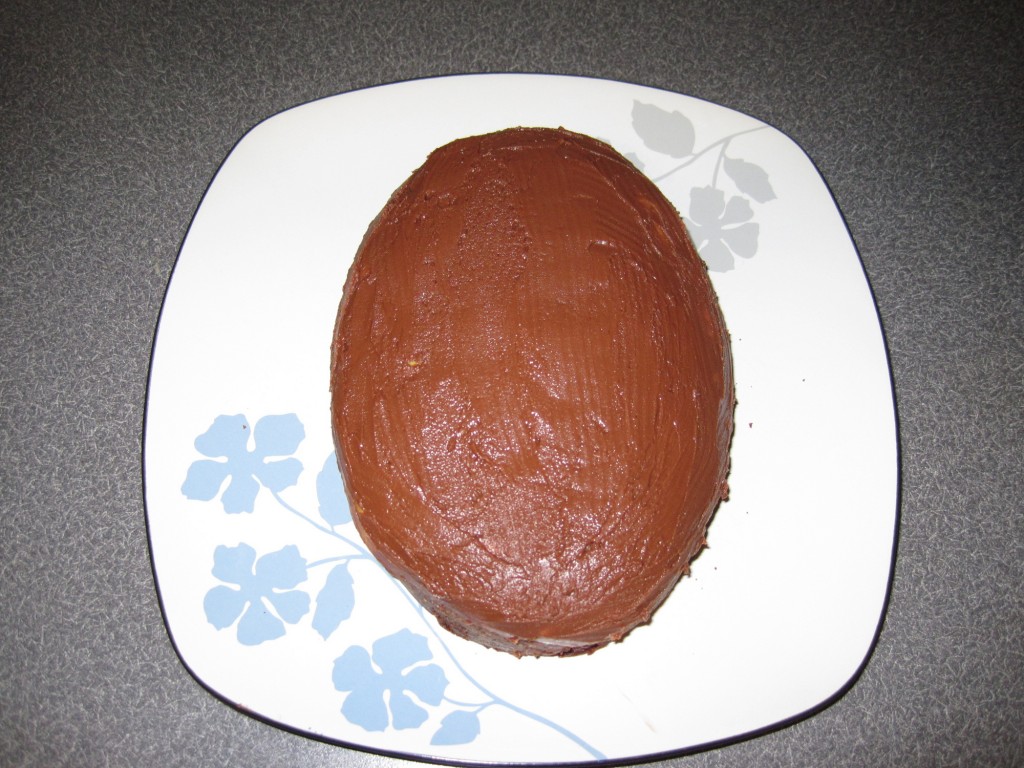 Easter Egg Bread (from allrecipes.com)
I make this in my Kitchenaid mixer and use my dough hook. I find that it works really well since the dough is very elastic and sticky.
Ingredients
2 1/2 cups all-purpose flour, divided
1/4 cup white sugar
1 tsp salt
1 package (0.25 ounce) active dry yeast
2/3 cup milk
2 TBSP butter
2 eggs
5 whole eggs, dyed raw
2 TBSP butter, melted
Colorful nonpareils
Instructions
In the Kitchenaid mixer bowl, combine 1 cup flour, sugar, salt, and yeast; mix well. Combine butter and milk in a small saucepan and heat until the butter is softened, but not fully melted.
Add the milk and butter mixture to the dry ingredients and mix on medium speed. Add 2 eggs and 1/2 cup of flour. Beat until combined. Gradually add the remaining flour in 1/2 cup increments, and mix until the dough has pulled together. Place the dough on a floured surface (making sure your hands are also floured) and kneed until the dough is smooth and elastic. If the dough becomes sticky, add more flour and continue to kneed.
Lightly oil a large bowl. I use olive oil, and spread it around with a silicon pastry brush. Place the dough in the bowl and turn over so it is coated with oil. Place a damp towel over the bowl and let rise in a warm place for 1 hour. The dough should double in volume.
Deflate the dough and place back on the floured surface. Divide into 2 rounds, and cover with a damp towel for 10 minutes. Roll each round into a long roll about 18 inches long and 1 1/2 inches in diameter. Use flour if the dough becomes sticky. Then braid the two rolls together and seal the two ends to make a ring. Place the colored eggs between the braids of dough.
Preheat oven to 350 degrees. Place the loaf on a cookie sheet prepared with nonstick spray. Cover with a damp towel and allow to rise for 45 minutes. I leave it on the stove while it is preheating, to ensure the maximum amount of rising.
Brush with melted butter and sprinkle with colorful nonpareils. Bake for about 35 minutes, or until golden brown.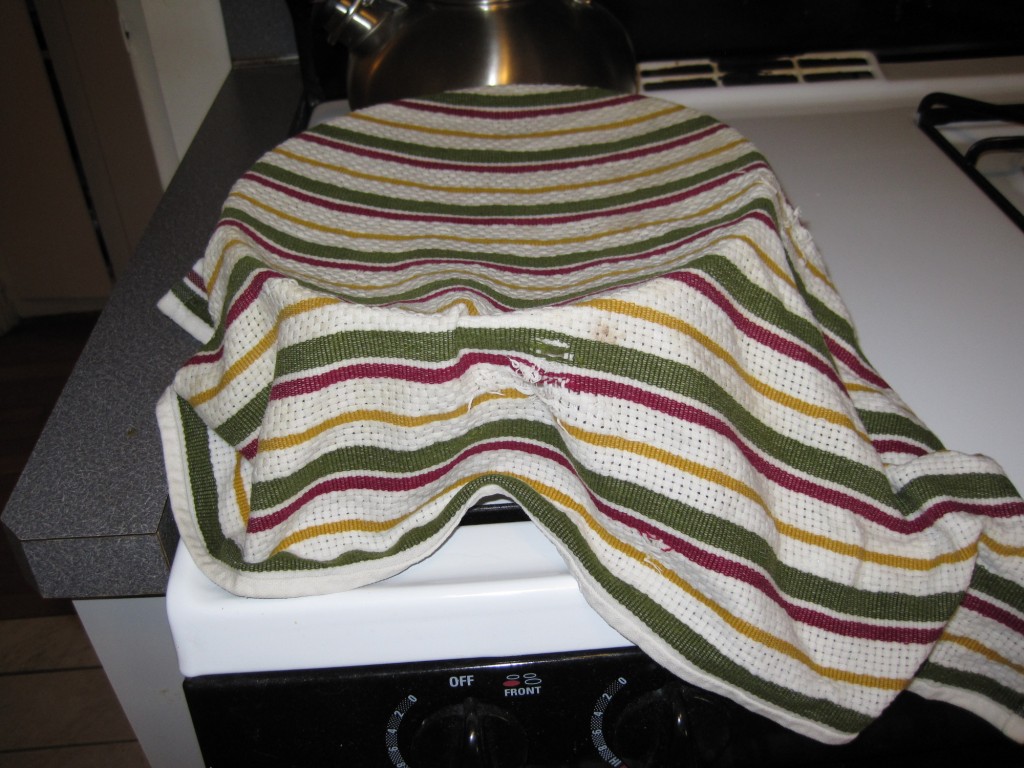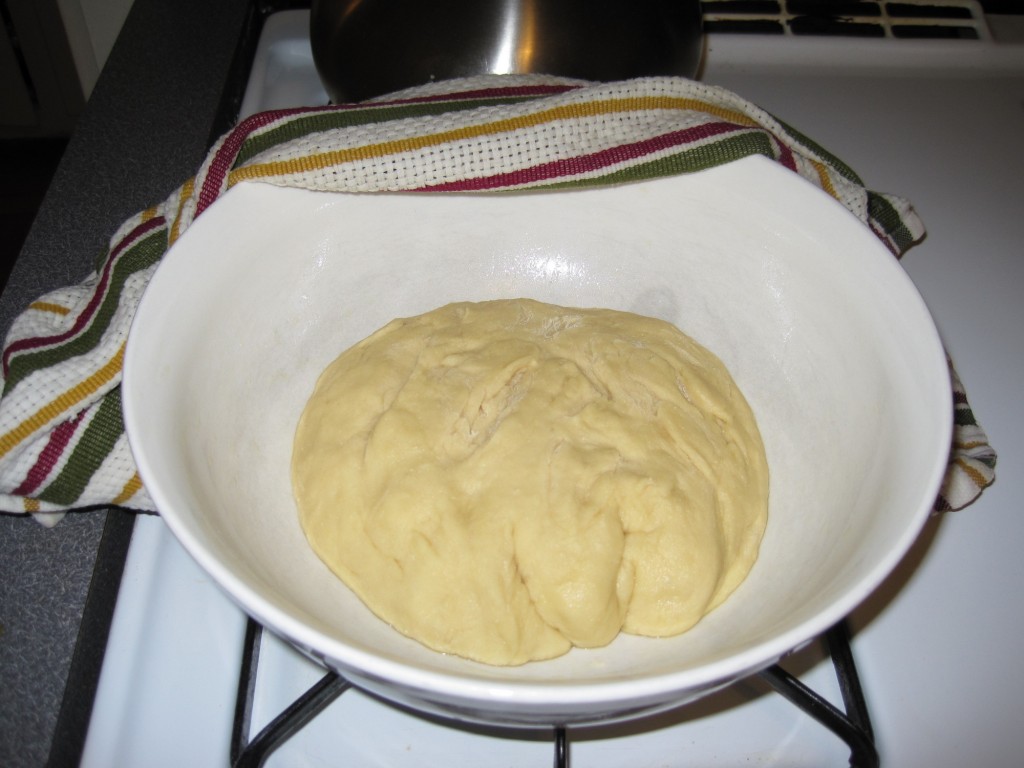 While you are waiting for the dough to rise, you can color the eggs. I leave the eggs out until they reach room temperature. Then dissolve a dye tablet in 1/2 cup of water and 1 TBSP white vinegar. Leave the eggs in cups until you are happy with the color. Let dry before using in the bread, or you will have a huge mess.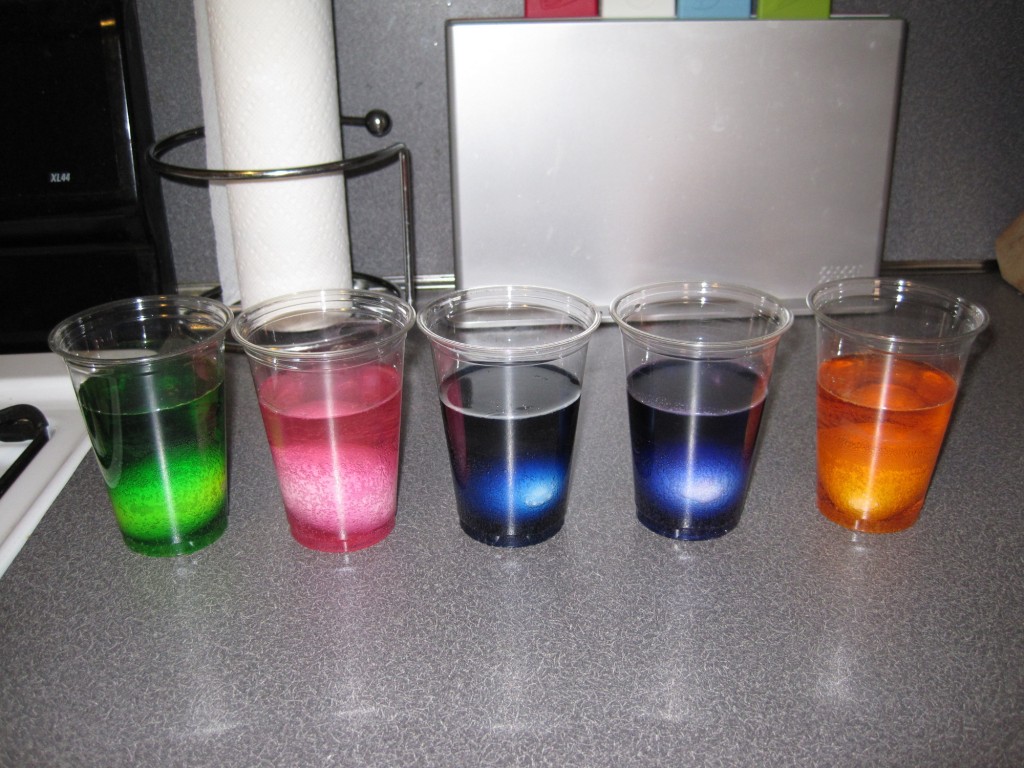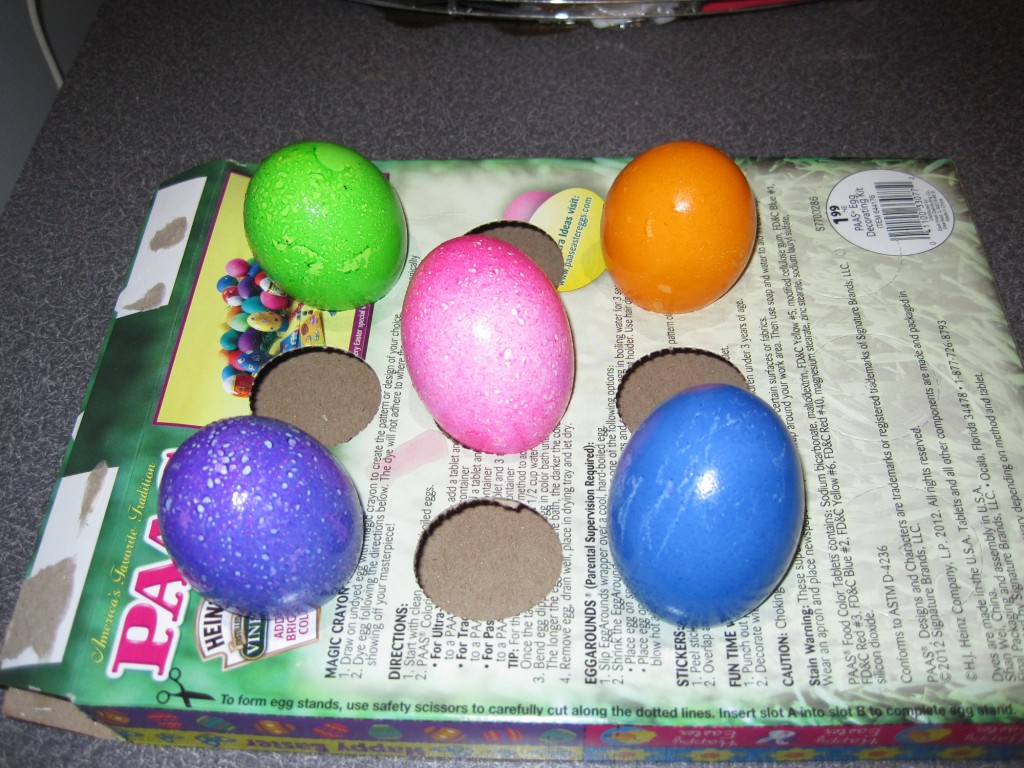 Cadbury Creme Egg Brownies (modified from Love and Olive Oil)
The main change I made to this recipe was that I baked it in a Wilton 6×8 oval pan, to make it look like an egg. I actually had to cook it a lot longer than the recipe stated, because of my pan choice. I am going to post the original recipe, with the original cooking times. If you want to do it in the egg pan, just keep watch over it and cook until a toothpick inserted in the center comes out clean. It took about 20 minutes longer than the original recipe. Also, I used baking chocolate chips and melted in the microwave instead of a double boiler. I did it in 30 second increments, at power level 5.
Ingredients
For the Brownies
2/3 cup flour
2 TBSP dark or dutch processed cocoa powder
1 cup milk chocolate chips
1/2 tsp salt
1/2 cup (1 stick) unsalted butter, cut into cubes
1/4 cup granulated sugar
1/2 cup light brown sugar, packed
2 large eggs, at room temperature, lightly beaten
1 tsp vanilla extract
For the Creme Filling
1/4 cup light corn syrup
2 TBSP unsalted butter, room temperature
1/2 tsp vanilla extract
1/8 tsp salt
1 1/2 cups confectioners sugar
For the Glaze
1/2 cup milk chocolate chips
2 TBSP unsalted butter, cut into cubes
Instructions
Preheat oven to 350ºF. Prepare an 8×8 inch pan (I prefer to use Wilton cake release). The original recipe calls for lining the pan with parchment paper, making sure there is an overhang.
Sift together flour, cocoa, and salt in a small bowl and set aside.
Melt chocolate and butter in a double boiler or a medium-large bowl set over gently simmering water. Stir until smooth, then remove from heat. Whisk in white and brown sugars and stir until dissolved and mixture has cooled slightly.
Whisk in eggs and vanilla extract until just combined (do not overmix). Sprinkle flour mixture over top and fold in to chocolate mixture using a large rubber spatula until just incorporated. Pour into prepared pan.
Bake for 25 to 30 minutes or until toothpick inserted into the middle comes out clean. Transfer pan to a wire rack and allow to cool completely. Remove from pan and place on a large plate.
For creme filling, beat together corn syrup, butter, vanilla, and salt on medium-high speed until smooth. Add powdered sugar, a little bit at a time, mixing until creamy. Dump 3/4 of the creme mixture on top of cooled brownies and spread into an even layer. Add a drop of yellow food coloring to remaining creme mixture and stir until evenly colored. Drop dollops of yellow creme top of white layer, and then swirl gently with a spatula. Refrigerate for at least 2 hours or until set.
Gently melt chocolate and butter together in a double boiler or a small saucepan set over low heat. Stir until smooth. Pour over creme filling, carefully spreading into a thin, even layer. Return to refrigerator and chill until set, at least 30 minutes, or overnight if possible (brownies are best when chilled overnight).
Using a large sharp knife, cut into 2-inch squares. Brownies will keep, refrigerated in an airtight container, for up to 5 days.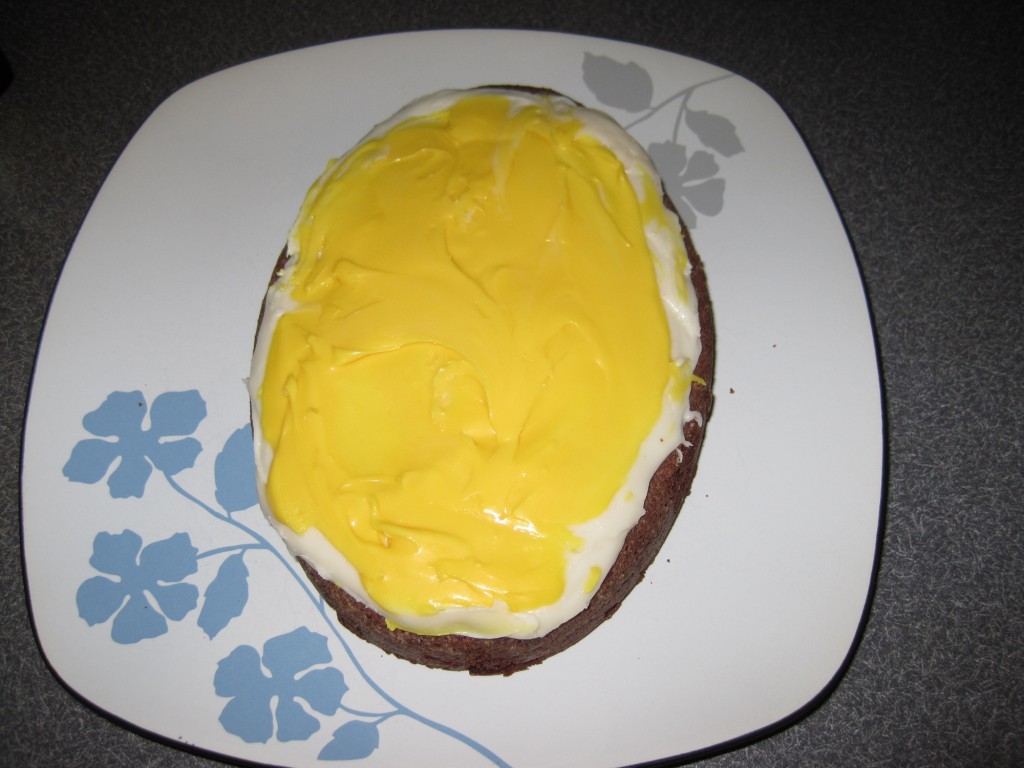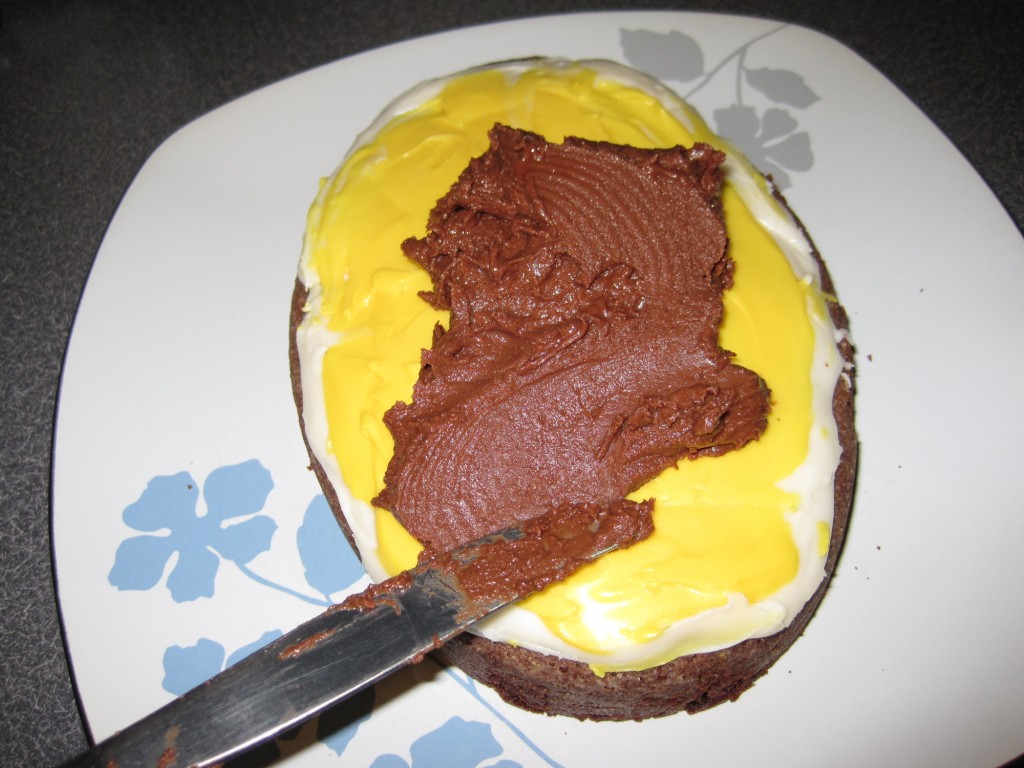 Happy Easter, everyone!! May your bunnies be hoppity and your baskets plentiful!
>(:0) <—– My attempt at a bunny emoticon