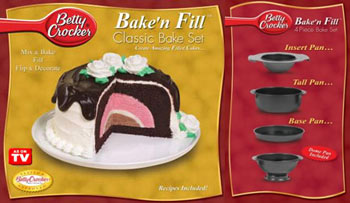 Usually those "As Seen on TV" products are totally useless and don't even work as advertised. I have to say, my Betty Crocker Bake 'n Fill pan has exceeded all of my expectations. I don't think they are widely available anymore, but you might be able to find one on Ebay or in the As Seen on TV stores in the mall. If you are able to get your hands on one, I highly recommend doing so.
The frosted layer cakes are pretty easy. You just fill either the tall or dome pan up to the line with batter, put in the insert pan, and fill the insert pan up to the line. The result is a hollow cake, and a plug-shaped cake. You frost the inside cavity, put in the plug, and end up with a solid cake with frosting in the middle. The tall pan makes a traditional cake shape, and the dome pan makes a spherical shape.
Now, the filled cakes are a little more tricky, especially since they need to be structurally sound. Like before, you fill either the tall or dome pan,  and put in the insert pan. This will give you the hollow top portion of the cake. But this time instead of filling the insert pan, you will fill the base pan with batter.  Once everything is done, you fill the cavity with either ice cream or custard and add the base cake. Flip over onto a plate and you have a filled cake.
I've experimented a bit with recipes, and found that some cakes are too delicate to use for this pan. I prefer to use pound cake, because it is a hearty cake but also goes well with most types of frosting. Pound cake keeps the hollow shape well but is still nice and cake-like.