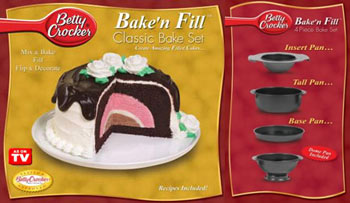 Usually those "As Seen on TV" products are totally useless and don't even work as advertised. I have to say, my Betty Crocker Bake 'n Fill pan has exceeded all of my expectations. I don't think they are widely available anymore, but you might be able to find one on Ebay or in the As Seen on TV stores in the mall. If you are able to get your hands on one, I highly recommend doing so.
The frosted layer cakes are pretty easy. You just fill either the tall or dome pan up to the line with batter, put in the insert pan, and fill the insert pan up to the line. The result is a hollow cake, and a plug-shaped cake. You frost the inside cavity, put in the plug, and end up with a solid cake with frosting in the middle. The tall pan makes a traditional cake shape, and the dome pan makes a spherical shape.
Now, the filled cakes are a little more tricky, especially since they need to be structurally sound. Like before, you fill either the tall or dome pan,  and put in the insert pan. This will give you the hollow top portion of the cake. But this time instead of filling the insert pan, you will fill the base pan with batter.  Once everything is done, you fill the cavity with either ice cream or custard and add the base cake. Flip over onto a plate and you have a filled cake.
I've experimented a bit with recipes, and found that some cakes are too delicate to use for this pan. I prefer to use pound cake, because it is a hearty cake but also goes well with most types of frosting. Pound cake keeps the hollow shape well but is still nice and cake-like.
Perfect Pound Cake (from the Cake Bible)
Makes one 4-cup loaf
Ingredients
3 TBSP milk
3 large eggs
1½ tsp vanilla
1½ cups sifted cake flour
¾ cups white sugar
¾ tsp baking powder
¼ tsp salt
13 TBSP unsalted softened butter
Instructions
Preheat oven to 350 degrees. Grease the pan well so the cake doesn't stick. I prefer Wilton Cake Release.
In a medium bowl, combine milk, eggs, and vanilla.
In a large mixing bowl combine the dry ingredients and mix on low speed for 30 seconds to blend. Add the butter and half of the egg mixture. Mix on low speed until the dry ingredients are moistened. Increase to medium speed and beat for 1 minute to aerate and develop the cake's structure.
Scrape down the sides. Gradually add the remaining egg mixture in 2 batches, beating for 20 seconds after each addition. Scrape down the sides.
Scrape the batter into prepared pan and smooth the surface with a spatula.
Bake for 55-65 minutes, until a toothpick inserted in the center of the cake comes out clean.
The recipe above is the original yield. Now, for the Betty Crocker Bake 'n Fill pans , I make 1 full recipe and 1 half recipe. To do this, multiply each of the ingredients by 1.5. I just do my best to estimate when the amount is difficult. For eggs and butter, I round up (ex. in this recipe I would use 5 eggs instead of 4.5, and 20 TBSP of butter instead of 19.5).
The baking directions are also slightly different for these pans. It really depends on the kind of cake you are making
For frosted layer cakes :
Bake both cakes (the hollow cake and the insert cake) for 50-60 minutes. These baking instructions are the same for both the tall and dome pans.
For filled cakes:
Bake the hollow cake (tall or dome pan) for 45-50 minutes and bake the base cake for 28-30 minutes.
Now, very important…
When testing with a toothpick to see if the cake is done, only test the base cake or the insert cake. Don't remove the insert pan…allow it to cool about 20 minutes first.
I know it sounds confusing but it is really easy once you get the hang of it. Now for the custard. The original booklet that came with my pan set suggested making instant pudding for the filling. I found that to be too thin, and the cake would cave in when I cut it. So I opted to make a thicker custard, which holds up nicely to cutting.
Pudding Custard (recipe from Aunt Linda)
Makes 2 cups of custard
Ingredients
1 package of instant pudding (any flavor)
1 cup of heavy cream
1 cup milk (I usually use 1%)
Instructions
Add ingredients and beat with mixer on high speed for 10 minutes until thick and fluffy. Chill before using.
If you have made it this far, thanks for reading!! I promise that this cake is worth the time and effort. It is so cool to cut open a cake and see a custard center. Not to mention that it is a totally indulgent cake that everyone will enjoy. Happy baking! If you try it, let me know how it goes.